In that order. Oh yes, and Snow.
So what of the day then? Well, I fancied a trip to somewhere with technology. Somewhere with computers and hard drives and vacant sales people with limited knowledge of those things. Currys, that would fit the bill. My ever expanding photo collection would soon be in need of some extra storage space. Almost fifteen years of photos were almost completely filling the 2TB hard drive they are presently stored in. More accommodation is required and if you know what you want, how much you need and how much you're prepared to spend, Curry's is probably the best place to go, just don't expect any help from the sales folk. They are there to sell, not advise. If you do ask them for advice on what desktop external hard drive to buy, you might come home with a washing machine instead, because logically, the person you spoke to hasn't been on the computer external storage course yet, but they have successfully completed the one on washing machines. I Knew, I Wanted, I Bought … a Seagate 4TB USB3 Drive and it looks very swish.
With the purchase safely in the boot of the Juke, we went for lunch. Two Fish 'n' Chips, one latte and one Americano. We think the indeterminate fish was River Cobbler whatever that is. It certainly wasn't cod or haddock, but it tasted 'fishy' and it was hot, so were the chips and the coffee and that was all we were bothered about. Outside, the snow was pelting down. It had started as sleet, but had now graduated to real snow. Next stop Compost.
Scamp has decided that even though the weather thinks it's still winter, in a couple of days it will be March and that's effectively Spring, so it's time to plant some seeds and for that you need lots of little plastic pockets, forty of them per propagator and lots of compost to fill those pockets. She already has the seeds, they've become a traditional Christmas present for Scamp. I've a packets too I think, somewhere, so I might be able to borrow one or two of those little pockets for my Teasels. I'd imagine the little seeds will be sown soon and kept inside until the temperature realises that it's soon to be spring.
Today's topic for sketching was 'Bridge'. I searched my Flickr photo stream this morning for possible subjects and arrived at a shortlist of six. After browsing them, I settled on one of Mauldslie Bridge and Gatehouse. It took about an hour to sketch and paint and ultimately reject. Redrew it and repainted it and it became SoD.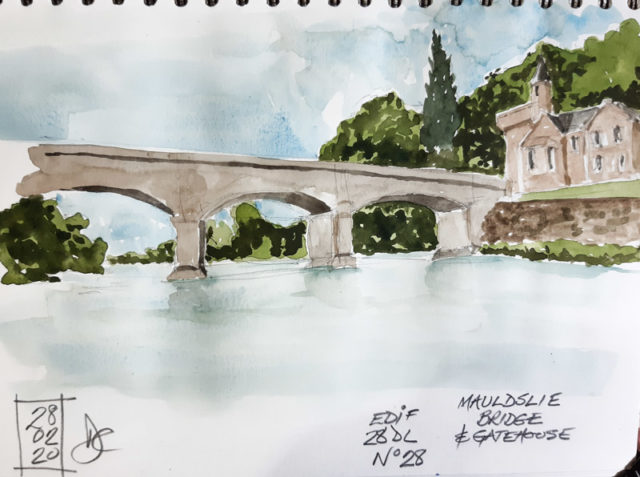 PoD was taken earlier in the day and was of a rather snowy and unimpressive Campsie Fells covered in snow. It's a poor showing, I know, but some people have decided that the photos must go on, so I do what I can with the cards I'd dealt. Not my best work, but done and on time.
Speaking of time, it's running on and I want to get this posted today.
Tomorrow we may go shopping in Stirling.