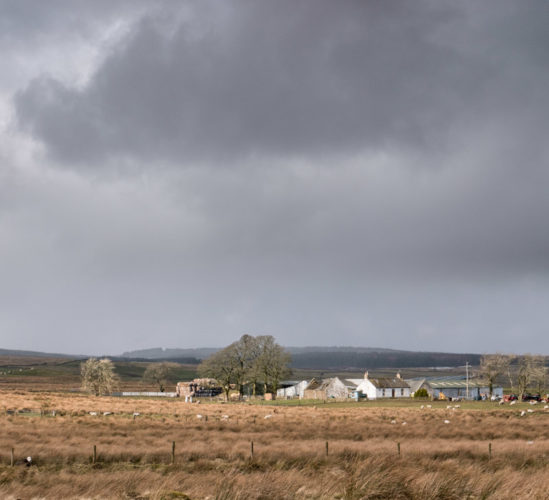 It's that day that only exists every four years.
To celebrate Leap Day, we went in to Stirling, in fact we went over the Tak-Ma-Doon road to Stirling. For the most part if was a jolly little run in the country, however halfway to Stirling, just as we were crossing the main road we came upon a bit of flooding. It wasn't a problem for the Red Juke with its high clearance, but I was a bit worried incase there were any nasty little potholes lurking under that seemingly innocent water surface, but there weren't, at least we didn't sink into any, but it did make me think about all these poor folk down south who have been flooded out of their houses.
The next part of the journey was uphill again with no place for a lurking flood then it was down-dale and all the water would be rushing ahead of us with no time to block our path. After the downhill stretch we were on to the straight and level road where I could stop and get a few photos, one of which made PoD. It's a wee farm under a glowering sky that promised snow. Luckily the snow had the good sense to wait for an hour or two before coming pelting down.
Stirling was busy, so busy that we couldn't get in to Nero, so we went to a wee independent coffee shop where the coffee was poor, but the food was really good. Much better than either Costa or Nero's usual tasteless stuff. Must go back again the next time we're in Stirling. There being nothing else we wanted other than a wee run in the country and a bite to eat, we came back home via Waitrose where Scamp chose a basket rather than a trolley and that prompted us to buy what we needed, rather than the whole shop.  We had sleet all the way home and later in the evening the snow did make a brief appearance, but it didn't last and it didn't lie.  It's getting a bit windy now as Storm Jorge slides across the country.  Allegedly we won't get the worst of it.  There is heavy snow forecast for north of us and strong winds south of us, but as I'm writing this the bins are taking a battering from the wind.
Dinner tonight was a frugal but really tasty omelette. Peppers, onions, mushrooms and cooked ham sorted mine. Scamp's was the same minus the cooked ham. We had considered getting a carry-out, but settled for a cooked meal because we couldn't be bothered going out for Chinese or Indian and didn't want to wait until 10pm to have a tepid meal delivered. A glass of wine washed the omelettes down nicely, and you can't drink wine with a Chinese or an Indian take-away, at least we can't.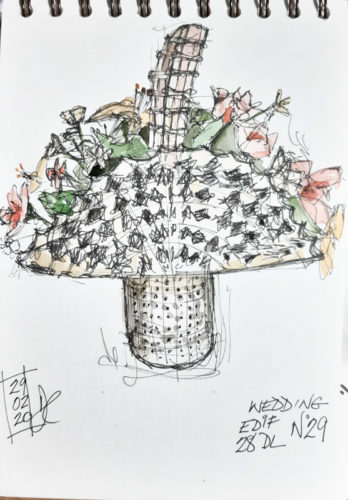 The sketching topic was "Wedding". Presumably it was to celebrate the fact that on Leap Day, the lady can ask the gentleman to marry them. SoD was Scamp's suggestion. It was the bridesmaid's basket that Hazy carried at Jackie's wedding a few years ago … quite a few years ago! My mum crocheted the basket and formed it using sugar to stiffen it. She also dressed it with with artificial flowers. The flowers have faded a bit, but the memories are still there. That's the last one done for this year. I may continue sketching, but if my past record is repeated, the work will peter out gradually, there being no real incentive to get things done and on time. I'll miss it, but I can hold out until May when it returns again.
No plans for tomorrow except for dancing hopefully in the late afternoon. Real dancing. Salsa!