Off on the bus to Glasgow on the coldest day since March
Got the fast bus in to Glasgow, well the sort of fast bus. Certainly not the slow bus anyway. Wandered round JL looking at kettles! Such exciting lives we live. Then a leisurely walk down Bucky Street so Scamp could buy some Christmas prezzies (spoiler alert! None of them were kettles!). Outside the shop there was a bloke busking. When we came out, the song he was singing sounded like one by Phil Campbell and his singing was like Phil Campbell too. I'm still not sure, but it could have been him.
Got the subway to Kelvinbridge and walked up to Paesano. Had our favourite pizzas. No1 for Scamp: plain pizza with sugo, added rocket and no garlic (no cheese). For me it was a straight No5. We even had an ice cream each to finish (on the coldest day since April). Bumped into Dr Barbara and Callum with the boys in Paesano. Got the train back into town and went in to JL and bought a kettle!
When we got home I took a walk to St Mo's and there was a fair buzz about the place. Lots of groups setting up stalls and things. I think it must have been from the Secondary school. Everything with a Halloween theme of course! Pumpkins spread all along the boardwalk and the seat in the park covered in fake spiderweb and covered in giant spiders. I got a few shots although the light was really low by that time.
PoD, however came from the Teazer in Glasgow. A reflection in a shop window.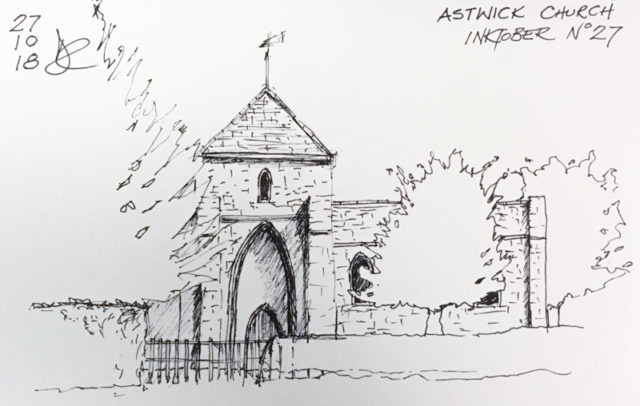 Today's sketch was another from the photograph library. It came from 2017 and is the church across the fields from JIC and Sim.  Slightly better than a place marker, but not by much.  Must try to get more sketching done outside in the real world.  Only four more days in Inktober 2018.
Tomorrow we have no plans. It's a long time since I've been able to say that.