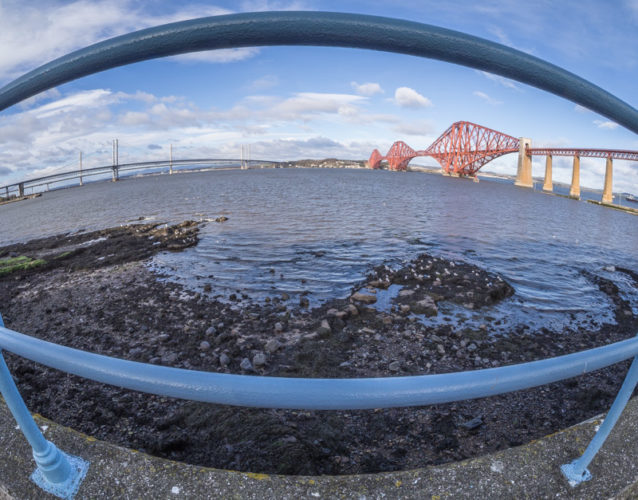 Not quite as far as China or Japan, but certainly a different land.
South Queensferry was Scamp's choice of destination today, so that's where we went. Not quite as far as Embra, but just on the edge of the capital city. It does look like a different country and probably a different era too. Narrow winding streets and cobble stone roads. For once we got parked with not problem in fact I had to check to make sure it was still free parking. It was.  The low light was really bright and the sky was blue.  We went for a walk.
We walked through the town and had lunch in Scamp's favourite restaurant. My burger was a bit dry and needed some salt. The chips were excellent and I had to ration myself. Scamp's Fish 'n' Chips looked lovely and the wee bit she gave me to taste was indeed delicious. Thin tasty batter, not overdone as it sometimes is.
Took a few photos with the Samyang to get the wide look through the narrow closes down to the sea, but finally settled on a Samyang shot through the handrail at the carpark that allowed me to capture all three bridges in the same frame as PoD.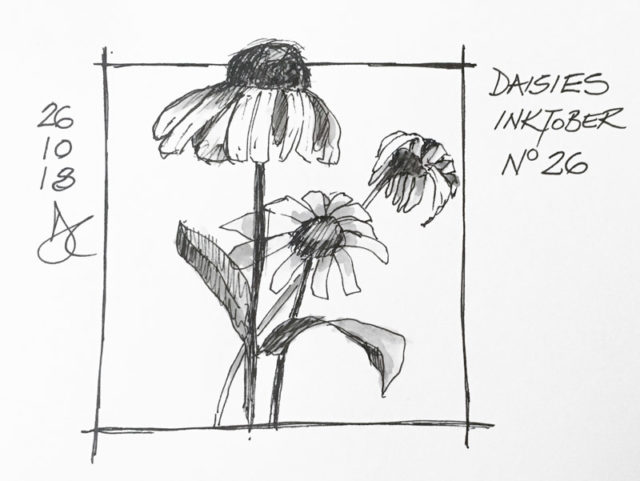 Couldn't settle on an Inktober sketch and finally copied and simplified a photograph I'd taken in St Mo's away back in the heady days of summer. Remember summer? I quite liked the finished article.
Tomorrow we may be going to Glasgow, again, but this time for a pizza lunch.