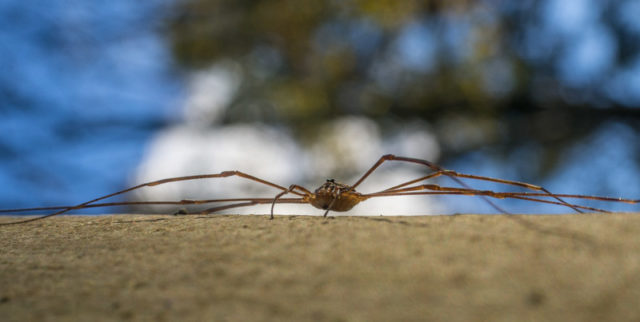 British Summer Time ended at 2am this morning and I didn't even hear it go.
So we are now officially out of summer and into the autumn, if not the winter, of our discontent. Even the weather got in on the act with the temperature just managing to climb above zero this morning. Tonight, as I write this, it is dropping away again and sits at 2.1ºc.
We'd half intended to go for a walk in Glasgow Green this morning, but instead we headed in the other direction and visited Asda instead with the twin purposes of buying Cream of Tartar (apparently and essential ingredient in the making of soda scones) and a Halloween tee shirt for Jamie's Halloween Salsa class tomorrow night. We were partly successful, in that I got a tee shirt and the Cream of Tartar (is Cream of Tartan different? I just typed that by mistake) but Scamp was not impressed by any of the Halloween offerings.
After lunch I went through the usual argument at this time of year: "So, if it's twenty past ONE now, that's really the equivalent of twenty past TWO yesterday, since the clocks went back silently this morning. And if it's now twenty past TWO and a few seconds, I shouldn't really be sitting here arguing with myself, I should be out in the bright sunshine taking some photos." Scamp didn't want to go out for a walk because she was up to her armpits in cake mixture after taking a notion to bake a cake for Gems tomorrow.
I took a walk over St Mo's suitably wrapped up in the Bergy jacket with the zipped in lining and a warm hat. I wish I'd also taken a warm scarf, but at least I'd the forethought to stuff a pair of gloves in my pocket. The remains of yesterday's Halloween party were scattered around. Pumpkins everywhere. I'd expected them to be almost completely destroyed by now after having been booted around the park, but no, they were neatly piled up with their toothy grins smiling at passers by. Got a few photos of them, but PoD turned out to be a Harvestman arachnid (NOT a spider).
"Harvestmen have one body section (spiders have two), two eyes on a little bump (most spiders have eight), a segmented abdomen (unsegmented in spiders), no silk, no venom, a totally different respiratory system, and many other differences."
Burke Museum of Natural History
Anyway, the Harvestman made it to the PoD.
By the time I came back home the temperature was definitely dropping away as the sun was also dropping below the horizon. Such short days at this time of year.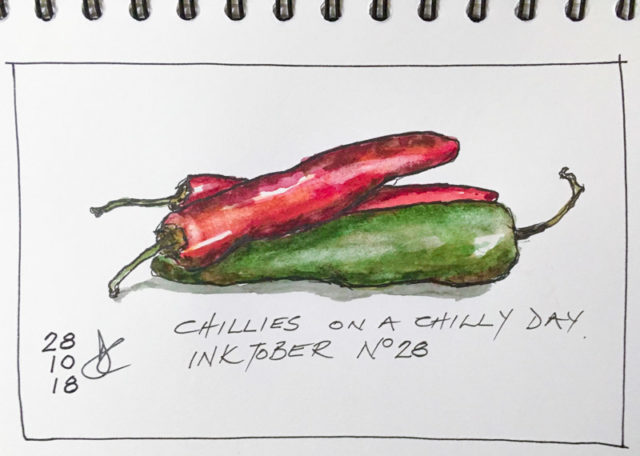 Today's Inktober sketch, No 28 is of chillies. It might be because of the curry we had for dinner that was just a wee bit hot. It might be because it's been a chilly day with the temperature not rising much above 5ºc. Anyway, it's chillies for a chilly day.
Tomorrow is a Gems day. I may go to the gym. Too cold for cycling I fear.