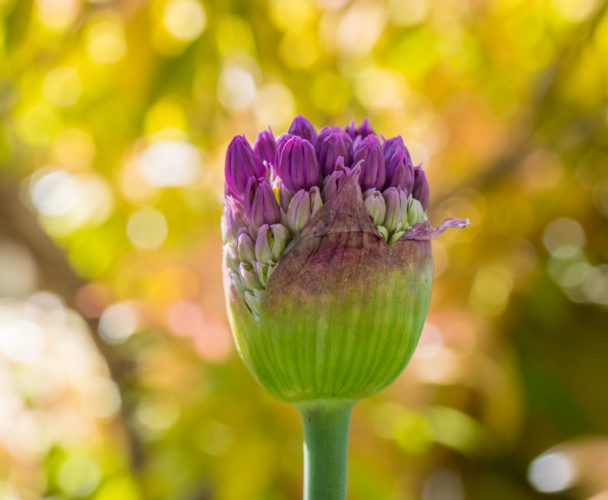 Temperatures predicted to be below zero tonight and it didn't feel that much warmer today.
We both did a walk around the garden trying to work out what had gone wrong with the acer which is looking very sorry for itself. Scamp thinks its roots have been too wet and that could be part of the problem, but I think it's been sitting in the sun too long too. It seems to like the shade. Perhaps it's a combination of the two. It's now back in the place it's been for the last year and has had a change of compost, with more drainage so we'll keep a watching brief on it for the next wee while. Otherwise, things are progressing well. The cold east wind today was making some of the alliums bob about a bit and we may need to give them a bit more support soon. It was one of allium heads that got PoD.
Under Scamp's careful tutelage I made a steak pie in the afternoon. It turned out a lot better than I thought it would. Different butcher, slightly different method, but the result was the same, just as good as last time. Even better, there's enough left over for tomorrow's dinner.
We needed some potatoes for tonight's dinner, so I volunteered to go out into the cold and get some. Of course I came back with a lot more than potatoes. That's the trouble with having to queue for your shopping, you want to make sure you get everything you went for and tend to buy things you didn't have on your list.
Spoke to JIC tonight and heard how his garden is progressing. It sounds great and I'm sure he's not exaggerating. His garden is huge compared to ours and I know he spends a lot of time keeping it up to scratch. I don't think I could expend that amount of energy on a garden, but I'm sure Scamp could.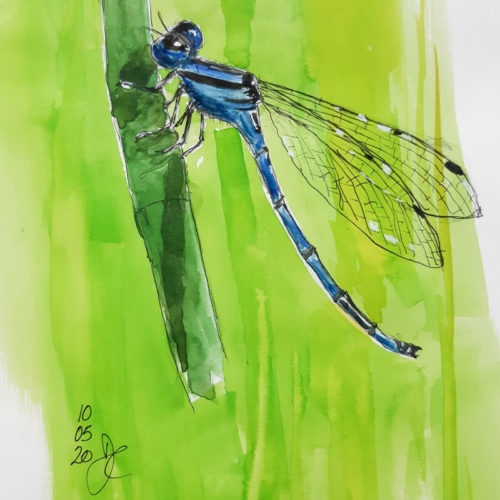 Sketch for today was a pet or an animal. Damselflies are animals according to some learned people. I took them at their word and painted a blue damselfly. I'm not sure if they, or my artwork is to everyone's taste, but that's not the point. It's the act of painting that it's all about. Doing something.
I've closed down the wee greenhouse tonight, just incase the weather fairies have it right with their -1º in the middle of the night. I've got some things to do tomorrow, including cleaning up this computer. It's running very slowly and needs a good clean out. I think the time for a new OS is getting closer too! Oh yes, and we're hopefully getting a Tesco order delivered tomorrow as well. A busy day beckons.