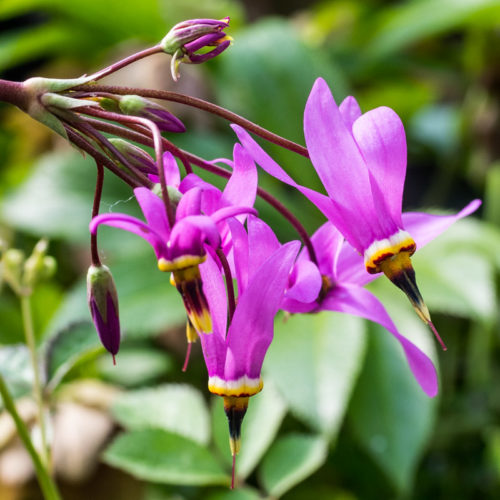 Never quite got round to completing (i.e. starting) yesterday's sketch, so today I had to pay the price. Two drawings in one day.
It had been a rather hot night again last night, even with our TOG 1 quilt, so morning came rather later than it should have. The sky was grey and the clouds looked heavy. The temperature at 9am was 14ºc which is a nonsense for May.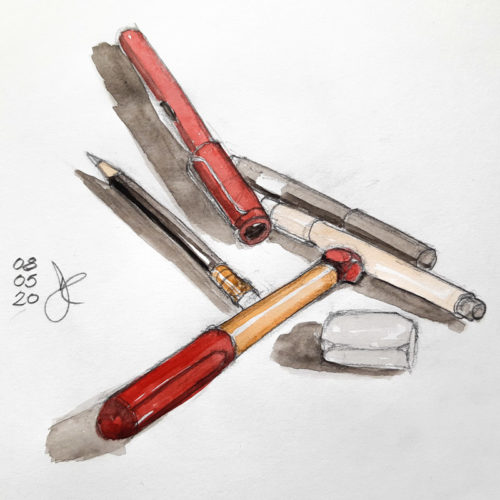 Yesterday's topic had been Your Favourite Drawing Tool which is just plain stupid. It's like asking someone who their favourite child is! I couldn't pick a favourite drawing tool, so what I did was make a selection of my favourite tools, be they pen, pencil, or eraser, because erasers are tools to. They produce highlights in a pencil sketch if used properly. Got started and with a watercolour wash on a pencil sketch, I had one tick on the To Do list. After coffee I'd start today's sketch.
After coffee time I had a wander round the garden (like a teddybear) and found that one of the peas I'd planted the other day had disappeared, and was that a shiny, slimy trail I saw? I do believe it was. Time for some retaliation. Not pellets, but wool pellets which slugs don't like apparently. Maybe slugs don't knit. Pellet trap laid, I squirted some of Scamp's patented Garlic Water on the raised bed. As well as wool, allegedly slugs don't like the smell of garlic. So now we know that slugs are either non-knitting vampires or else leading us a merry dance. Still, I felt better doing something rather than nothing.
In the afternoon I finally got round to that second sketch which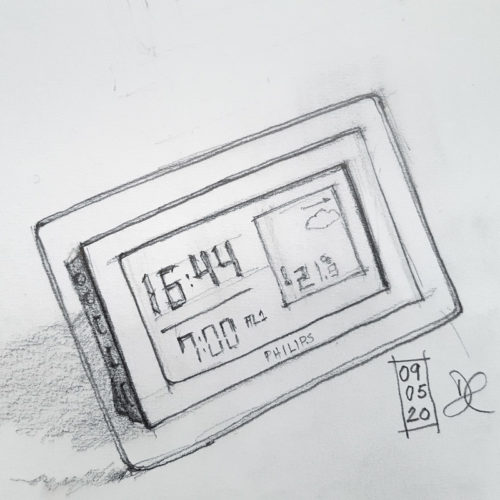 wasn't the most interesting of subjects either. A Wall Clock or Your Alarm Clock. Now I don't do alarm clocks much now. My phone does a good job of waking me and we don't have that many wall clocks in the house. I chose the easiest one and drew my old alarm clock. Digital, rudimentary, made from aluminium and plastic with an LCD display. It was an instant winner. Simple pencil sketch sufficed. Two Ticks.
Later in the afternoon I helped Scamp repot her acer which was looking a bit down and started a 'tattie bag' with some Jersey Royal potatoes that were sprouting eyes. We kept hoping and waiting for rain, but the promised showers never really appeared. A few drops in the bird bath in the morning, about five drops in the afternoon and then the clouds left us for destination undisclosed. Maybe tomorrow the clouds will open.
There was a dance practise tonight. We danced the full El Carnaval salsa track, nearly five minutes long and very, very fast. After a rest we started on Waltz. Waltz 1 was ok and fine after a couple of false starts. The discussions (arguments) went on for over half an hour before we realised we were both wrong. Finally agreed on a middle way and danced it through a couple of times. Called it a draw and celebrated with a G 'n' T each.
PoD turned out to be another shot of the American Cowslip called Shooting Star. They are becoming battered by the wind and the flowers may not last much longer.
Nothing much to do tomorrow except maybe a rain dance.
(And just in case you were wondering. You were always my favourite child!)