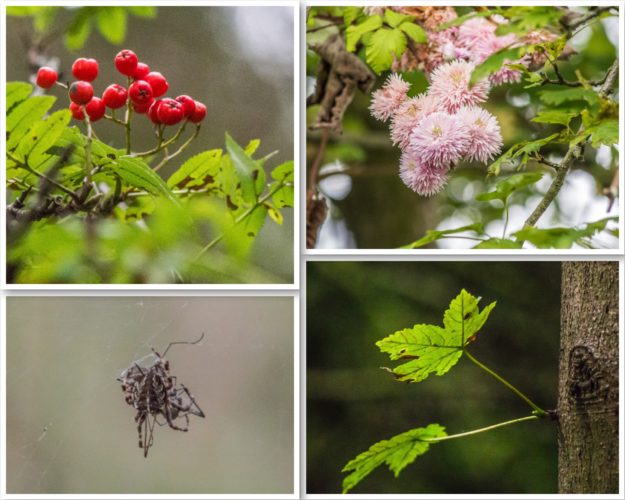 We went to Glasgow today. Since the buses run to their own timetable on Sundays, we drove in. It was a lovely morning and Scamp thought we might manage to have a coffee outside, but by the time we'd finished shopping, the wind was becoming a bit gusty and we settled for a coffee inside.
Dinner for me was a repeat of yesterday's, Lamb, Chorizo and Puy Lentil Casserole, but this time made at home. It turned out as good as the Loch Leven Larder's, if not better. Who am I kidding? Of course it was better! Slow cooked for six hours, it was great. Plenty left over for tomorrow's dinner and maybe some for lunch later in the week.
I went for a walk to St Mo's in the late afternoon and got a few shots, but the light was poor by that time and that resulted in a lot of digital noise which you can remove quite easily with Lightroom, but the price you pay is a loss of definition, so it's a double edged sword. I did see a strange pink blossom at completely the wrong time of year. There were thorns on the stems and on the back of the leaves which look like bramble leaves. The plant seemed to be behaving like a bramble by climbing round other tree branches. Couldn't believe this was flowering in September in Scotland!
No plans for tomorrow, because like most Mondays it's eaten up with Gems in the afternoon and salsa at night. Might get some painting done. If not on canvas, then at least on the outside window ledges.