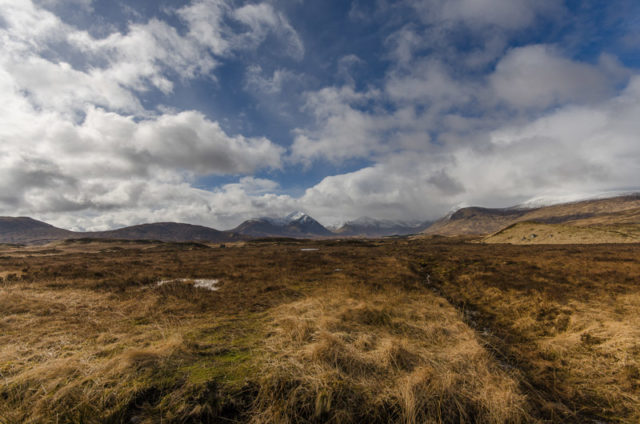 Up and out by 10am. It was going to be a long day.
Topped up the Juke's tank and pointed the nose at the M80 heading north. Passed Stirling, Calander and on past Loch Lubnaig through some beautiful sunshine and some heavy showers. Didn't stop until Crianlarich for a 'comfort break' then back on the road to Rannoch Moor to grab some photos. Some things I can resist, but the mountains surrounding Rannoch Moor, especially when they've had a dusting of snow? No, that's an impossibility. I just had to take the shot. I've taken it many, many times in all sorts of weather conditions, but it never looks exactly like I saw it in my mind's eye.
Next stop was Morrison's at Fort William (Fort Billy as we used to call it) for lunch and more fuel for the Juke. That was the easy part past. Next was a long slog up past Spean Bridge and then when we were past Invergarry we were on the road to Skye that took us past Eileen Donan castle the cover of so many biscuit tins and over the bridge to Skye proper. Finally reaching Jackie & Murdo's croft just after 4pm.
Passed some beautiful countryside on those 240 odd miles, but I only took the half a dozen photos at Rannoch. Wish now we'd taken a little more time and grabbed some more images.
I suppose I should have gone out for a walk down by the slip, but I was tired and a glass of wine and a wee dram put paid to any ideas of more driving tonight.
Tomorrow, maybe a wee tour of the north end of the island.