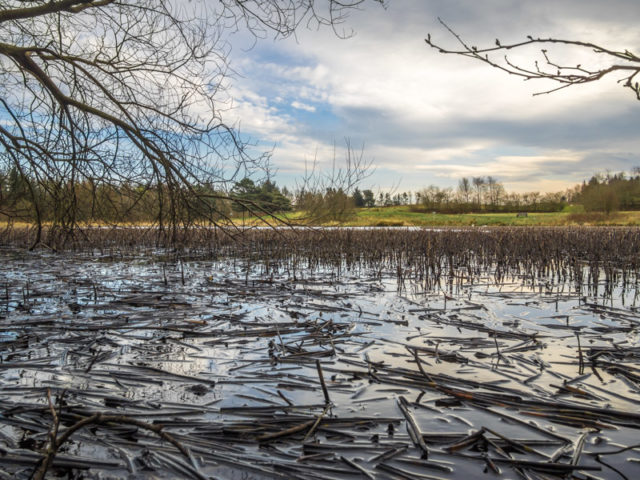 17ºc predicted for today. I used to define 15ºc as 'Shorts & Tee Shirt weather'. I don't think it quite reached the 17º today.
In fact it hardly reached the heady heights of 15ºc once windchill was taken into account. Yes, I was wearing a tee shirt, but it was under a shirt which itself was under a zip-up cardigan, so I don't think it was in the spirit of the Shorts & Tee Shirt region. It certainly fell quite short of the Shorts requirement. Just to be sure that frostbite wasn't going to figure in the report, I was also wearing a fleece to go out into St Mo's in the afternoon.
I was hoping to see some deer, I'm always hoping. I'd come prepared with the camera set to shutter priority, lens pre-focused to infinity and long lens attached to the Oly. Just got clear line of sight to see the white tail of my quarry disappearing over yonder hillock, easily 200m away. Oh well, landscapes don't run away and neither do little beasties, well, they do, but not so fast that I can't catch them on camera. Switched to a macro lens and went looking for some slower, less easily frightened sycamore seedlings to stalk. Got a few, then I heard the crashing sound away to my left. It must be one, or possibly two dogs I'd seen earlier, excitedly chasing a ball. No, out of the corner of my eye I saw a deer, a roe deer buck with neat little antlers charging down the line of the bushes not 20m away. Wrong lens on the camera. Do I have time to change? Yes! Without moving my head I got the lens out of the camera bag, disengaged the bayonet on the macro lens and removed it, then, with both lenses in my hands and none on the camera, the deer turned and looked straight at me. I thought I'd got away with it, then it must have sensed or scented me and it ran off to join its mate, because the first one I was sure was a doe. Oh well, screwed up again. How often has Scamp heard me say "Wrong lens". This time it wasn't WRONG lens, it was NO lens on the camera!
Gave up on the deer hunt, took some desultory photos of sycamore seedlings and walked out to of the woods. Walked right round the pond and took a few shots across it of the reflections and last year's horsetails blocking it up. That became PoD.
We'd spoken to Hazy in the morning and found that they had beautiful blue skies down London way. At that time we had dull grey skies. That didn't prevent Scamp from doing a bit of transplanting and potting up of last year's cuttings. She really does have green fingers. A great deal of her cuttings take root. Some of mine do, but she beats me for skill and enthusiasm. Hazy reported that more of the nasturtiums she'd planted in their window box had germinated too.
Dinner tonight was Loch Trout with potatoes, carrots and broccoli.  Absolutely delicious.  Scamp made it of course and although I'm not a great fish fanatic, I thought this was extremely tasty.  Almost as good was pudding which was cake and custard.  Some things, although they are simple are simply the best things to have.
Spoke to JIC later and he explained to me in Topsy & Tim terms how the government labs are using antibodies to give results in Coronavirus tests. Very well done JIC, I understood a lot of that explanation. They also had had a springlike day down Cambridge way with warm temperatures and clear skies. Eventually we did get clear skies too, in fact I'm maybe being a bit critical when I say we didn't reach the predicted 17º. It probably was that in the shelter from the wind here. Actually about 7.30am I looked out the back window and the sky was that lovely orange-pink colour you get in early morning springtime. Maybe spring is really here.
Today the Scottish chief medical officer Dr Catherine Calderwood was forced to resign after admitting that she'd travelled from Edinburgh to her second home in Fife, not once, but twice recently. This was in direct contradiction of her own advice to the Scottish public. Foolish, but aren't we all at times? Don't we all think we're above the law? Let he who is without sin cast the first stone.
Tomorrow we will be waiting patiently for our food delivery from Tesco.