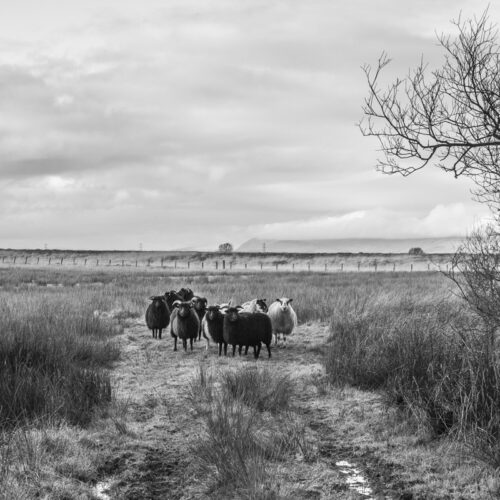 Parcels to send today. Going down south by different routes.
Parcels loaded into the car this morning and off to post them. One going by Royal Mail because the postman knows where our son and his wife live. One going by DPD because they are cheaper. It's a race then. Which one wins. Which one gets there quickest. We'll find out later in the week, hopefully.
With the heavy posting done, it was time for a drive into the wilds. The wilds of Fannyside Moor. It was a beautiful morning with blue sky and just a little cloud or two. Once we got there we just sat in the car and listened. Listened to nothing. Just the distant sound of the occasional car running across the moss. That's the peat moss, the moorland road across the peat moss. A single track road with passing places in the middle of the Central Belt in Scotland. Not ten miles from Cumbersheugh and it's a single track road with passing places. This is the 21st century isn't it. Anyway, we sat and listened to the radio for a while and then let the silence rule us. Perfect peace.
When we got out we found a bunch of ladies standing watching. Lady sheep, that is. Some black and some white, but all waiting and watching. Sheep have this disturbing way of looking at you that makes you think you should really turn round because something may be creeping up on you from behind. They also look as if they're sizing you up, challenging you. Actually, I think they were just waiting for the farmer to bring their lunch. I took some photos and we walked down the road a way. Took some photos of an old ruined farmhouse and then came back. They were still there, the ladies. Still watching. Still waiting. Took some more photos and they all drifted away, bored with the show.
Drove home for lunch and Scamp went to visit her sister while I filled my birthday pen and started on the pile of unwritten Christmas cards. I got halfway through them when Scamp returned. I'd had enough of that for now, so I grabbed my camera and went to bolster my collection of photos. I needn't have bothered. It was too late and the rain came on. I get the feeling it just waits for me some times. Came home and had a look at the photos, but as I suspected, they weren't worth the bother. Went back to finish off the cards.
I don't usually approve of the 'one size fits all' catch up 'what we did this year' stories that used to be all the rage at Christmas, but I decided that this year had been such a momentous one it was worthwhile cataloging it. If for nothing else, it showed our friends that they are not alone. We've all had a terrible year. Some worse that others, but nobody got away lightly in 2020. I'll include it in some of the Christmas cards, just to keep folk in the loop.
Tomorrow we pay another whack of money to Royal Mail when we have to buy the second dose of stamps for this load of cards.
Tomorrow looks wet for most of the morning and early afternoon. What fun today was, though. I wonder if those sheep are still standing. Watching, Waiting.