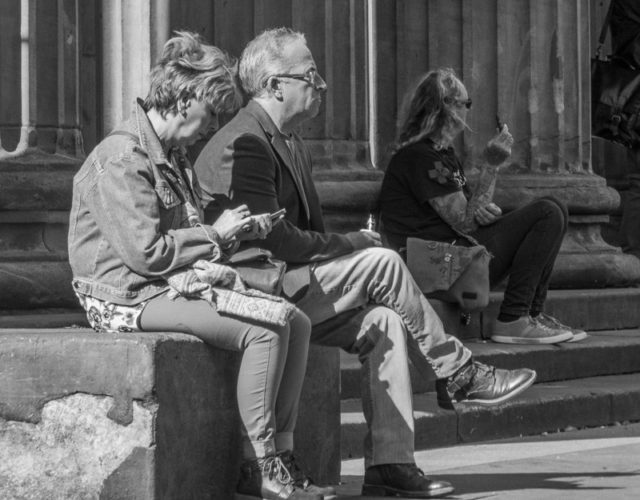 According to the weather pixies, today is the last day of summer. When did it start? I think I must have blinked.
Sort of got off to a slow start today. We woke to blue skies and fluffy white clouds.  I'd thought of going to Helensburgh on the train (sorry JIC). Scamp had thought about going to Embra. We couldn't agree on what to do and wasted too much time farting about.  In the end, we did neither. We went in to Glasgow on the train hoping to get me a pair of jeans in Debenhams. I'd got a pair in the sale last week and despite them having a button fly, they were really comfortable. Went today and they were full price again. Worse still, they didn't have my size. Bummer. Had a coffee in Nero and came home, but not before I'd got a couple of photos with the Teazer on Queen Street. PoD is above.
After dinner Scamp tried to buy the jeans from Debenhams website, but although it promised next day delivery to your nearest shop, after choosing our nearest shop, in fact any shop, it said we could collect them on Saturday. What happened to Friday? Don't they do Fridays? Maybe the delivery staff have a wee party on Fridays and customers can go to hell. It used to be, you wrote a letter of complaint to head office about stuff like this. Now you post it on their website for all to see, something like this:
Tried to order a pair of jeans today (Thursday) with 'click and collect'. Order before 9pm it said and you can collect tomorrow after 12 noon it said. At the checkout I selected the Stirling store. You can collect after 12pm on Saturday it said. Saturday is not the next day after Thursday, Debenhams. Oh yes, and why are Scottish customers warned that they may have to wait another hour before their parcels are delivered? Is there a problem getting the parcels through the customs at Hadrian's Wall? Filled in the survey, but of course there's nowhere for you to put in your email address for a reply. I wonder why??
This morning it was the car's turn for a clean out. Scamp had 'done the stairs' with the new Dyson and it was my turn to clean out the car. It does a great job, but the battery lasted about 5minutes of full power. What a handy little tool it is. It's now been charged twice more, once to finish cleaning the car and once to get it back to a full charge. I think it's a 'keeper'.
Tomorrow we go for a test drive in a Juke. Hence the clean up of the Megane.