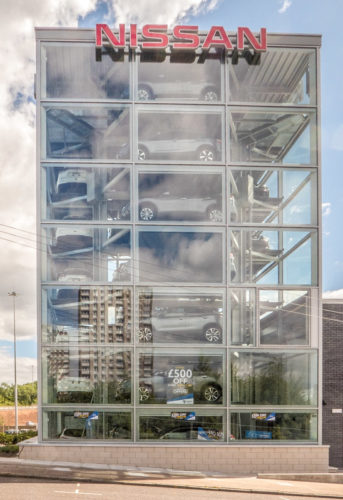 Scamp was taking her sister out to lunch today and I was heading in to Glasgow on the train.
First stop was the Nile Barber for a number 3 all over. So who would it be? The conspiracy theorist? The Everything's Getting Older grump with a story? Or would it be the new guy who doesn't speak, just cuts? It turned out to be Aidan Moffat Everything's Getting Older, and he had his left arm in a sling, so that would be another tale to tell. As it happened, he had a torn ligament, but didn't divulge the reason. He did moan about all the folk who were just getting in his way in the town today, and how loads of trains were cancelled this morning because of 'an incident'. "That usually means somebody's jumped in front of a train", his words not mine. "Monday morning's a favourite time to do it." Again, his profundity. However, he did tell some jokes to lighten the mood and he got a decent tip for that.
With the number 3 completed to both our satisfactions, I walked up to the Nissan garage that looks like a gigantic Matchbox Toy© display. That's where today's PoD came from, in fact the only photograph of the day. It was quite formal inside and I was beginning to worry if I'd dressed too casually for the occasion and whether I should have phoned ahead to make an appointment. However, I needn't have worried, the fact that I had money which I appeared to be willing to part with made me a suitable target client. After having a seat in both the possible replacement for the Megane, I was a bit bamboozled with the 'new' uses technology had been put to in the last eight years. A lot has changed in Facebook cars since you last signed in. The salesperson obviously recognised my confusion and handed me the brochures for both cars and as a final 'go away and stop wasting my time' said "Is that all you came in for today?" My reply of "No, I came in to get my hair cut too." seemed to go so far over her head it was stratospheric. Her blank looks proved that she suffered from an extreme form of NSOH. Clutching my brochures I made my way back into the real world. The search has begun.
Going back on the train, the bloke across the passage from me dropped a folded up £20 note as he was sitting down. I decided to be 'good Samaritan', tapped him on the shoulder and pointed. What a look of relief on his face. Good deed done for the day.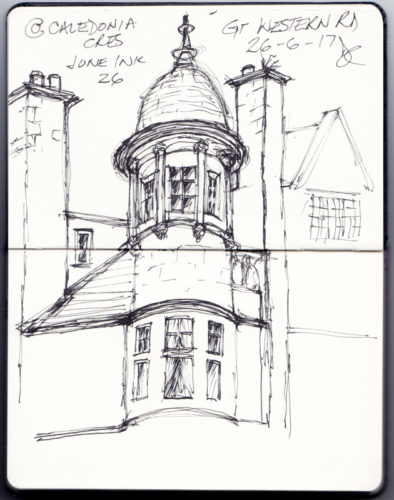 At Salsa tonight the beginners class were even, then a late arrival made me surplus to requirements, so I took my leave and polished off the above sketch in just over 15mins. It's a fiddly building with curved stonework and strange angular areas of roof. I'm quite happy with the result, but wish I'd taken a photo to check some of the details. The little A6 Moleskine book is great for these small sketches.
Tomorrow the rains will come with a vengeance. On June's birthday too!