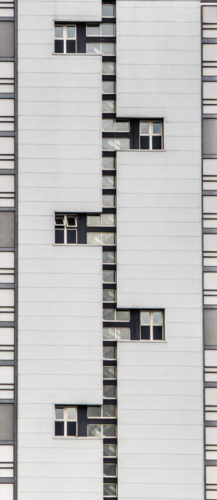 We had decided to go for a walk down Glasgow Green this morning and that is what we did.
Usually the parking is quite tight at the People's Palace, but either because we were there early or because the temperature had dropped significantly today and folk were just staying at home. I almost felt sorry for some French folk who had arrived at the People's Palace in a tour bus, only to find a locked door. For most of the week, the building opens at 10am, but on Sundays it opens an hour later. They missed the opening by 5 minutes!
We walked around the usual circuit and that's where my PoD abstract came from. Went in to the wintergarden for a quick coffee for me and peppermint tea for Scamp before going home. Unfortunately the barista(?) didn't seem to understand "some hot milk on the side" and I got a cup of milky coffee. Not really surprising as two of the cafe assistants didn't look as if they'd be able to spell their names correctly at the first attempt.
Back home we watched an enthralling and, I must say, interesting F1 GP from the street circuit of Baku in Azerbaijan. Thrill, spills, crashes, flaring tempers. It had it all. It even had a smiling winner who drank some of his champagne from his racing boot, but the best bit was when the 3rd placed rookie had to drink some too, from the same boot. The look on his face was a picture!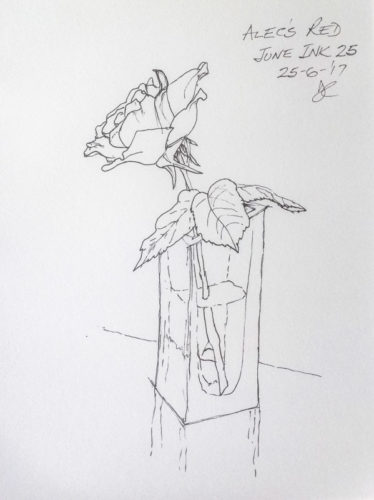 Today's sketch was done on Pink Pig 150gsm cartridge paper and with an almost dry Derwent Graphik 0.1mm pen. I drew it as the race was nearing its nail biting climax and the flower head was drawn blind. I think this must be the most accurate 'blind drawing' I've done so far. I'm quite pleased with it, especially after yesterday's effort.  The rose is Alec's Red, Scamp's favourite rose and it was a wedding present from Alex to us all those years ago.  Scamp cut the flower to stop it being battered by the high winds this weekend.
Tomorrow? I may go in to Glasgow to get my hair cut.