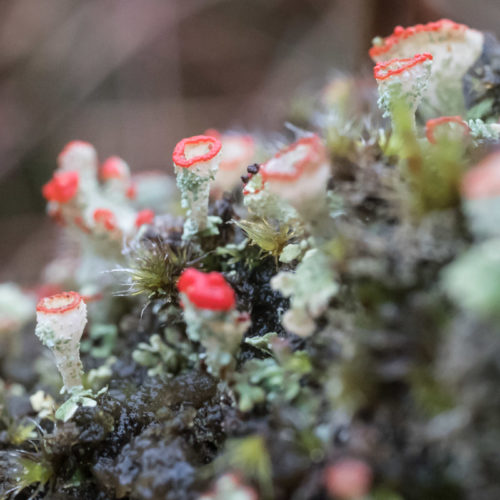 And it felt like the shortest day too. Very little sunlight finding it's way to the Scottish earth today.
Apart from having a lot to accomplish today, there wasn't much incentive to get up and get started, but we did. Calendars to print. Doors to fix. Dinner (mine) to cook. Tidying up to be done. Just normal day to day stuff, but it all seems to mount up some days. Today was that day. Also, there was the usual photo to be taken in almost twilight.
I went to B&Q to get the stuff to fix the door. After lunch I started my dinner – Lamb Shoulder Shank, slow cooked. With that on its way, I went out and took some photos. Mostly macro photos and mostly macro photos of Cladonia lichen. Found some Cladonia Bellidiflora which are like normal green/blue cladonia but with red tips to the crown. Not particularly rare, but it's a long time since I've seen any round here. That pic made PoD. Like I said, there wasn't much light around and most of the pics were taken at ISO 3200. I know that sounds like technospeak, but to give an indication of the low light, normal photos for most of the year are taken at ISO 200 to 400. 3200 means that there is only about a 1/16th the light available at ISO 200. Dull, dull, dull. Yes, the maths is dull, but the light, more so.
To brighten up this shortest day we watched a BBC re-run of a re-run of a re-run of the five year old Penguins of Madagascar. Still as funny and still finding little quotes throughout the film.
Lamb was lovely and not too fatty. Scamp had salmon as usual. Both of us finished off a bottle of Barolo we'd started last night.
Spoke to JIC later in the evening and were pleased to hear that there wasn't any serious flooding down by. Sorry to hear that Sim has to work on the 27th in her new job with no holiday allowance as yet.
Well, it was a dull day, but the good news is that after 2am on Monday, the days will start getting longer and Scamp will give a sigh of relief as her SAD husband starts to come out of the long winter tunnel.
No big plans for tomorrow.