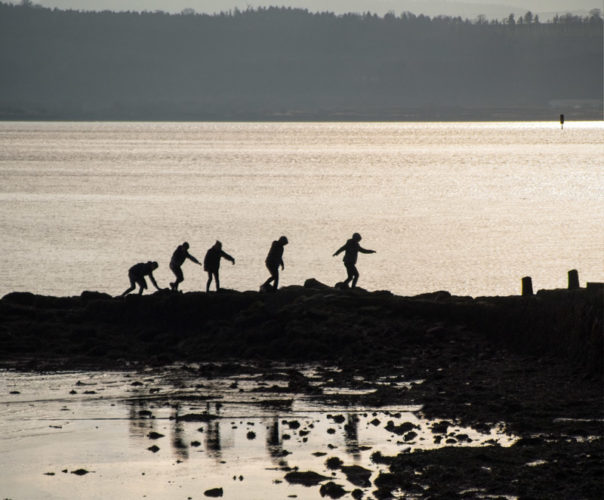 Yesterday I said that just to be out for a walk in the open air without any shops would be a blessing. Today we were blessed with open air and no shops.
Initially we drove to Stirling with the possibility of travelling onward through Callander to Lubnaig or east to a wee loch we've been to a few times but can't remember the name of. We visited neither of these places today. Instead I pointed the Juke towards the compass direction with the most likelihood of some sun, back along the M9 intending to visit The Kelpies. Then Scamp suggested we go to Culross instead (Sorry Hazy), and that is where we ended up.
Culross actually ticked all the boxes:
We walked along at the side of the now obsolete mineral railway line from Longannet power station to the manmade lagoons near Low Valleyfield. I was intending to take some shots of the boardwalk and new pier at Culross, but then five boys on bikes ruined my shot, or so I thought. They walked and one cycled along the boardwalk, from there on to the pier and finally on to the rocks. I don't usually allow people in my landscape shots, using Lightroom to unceremoniously delete them. This time I used them. They made an interesting focal point with the sky and sea as a backdrop. That had the makings of a PoD.
We walked along towards what's known as Preston Island although it's now a headland. I presume it once was an island before the slag and cinders from the power station were dumped there to reclaim the land. By the time we got there the light was failing so we turned and headed back. I took a few more photos, but nothing as good as the boys on the rocks.
Drove home and before dinner I did a bit of digital cut 'n' paste to get me the composition I wanted and was really quite pleased with the result.  The Five Stages of Man.
Dinner tonight was going to be a carry-out curry or Chinese, but eventually we settled on a staple: Fish Fingers and Egg with Chips and Spaghetti. And some people call us 'Foodies'!!
Tomorrow we have nothing planned, but if the weather's good I'm hoping to get some more photos.