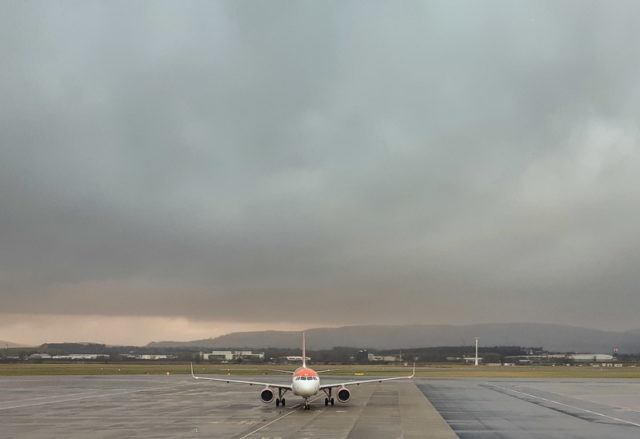 Off on our travels again.
Apart from checking, re-checking and partly unpacking then repacking we didn't do much. About 1pm we drove to the airport through the rain. For once I got through security without having my bags checked. Even walked through the metal detector with my belt still on and didn't trigger the flashing lights!
Since we were kind of on holiday, I risked a half pint of Peroni at an extortionate price. Grabbed a PoD of the airport with one plane against a Glasgow sunset. It's becoming a tradition when going on holiday. Soon we were called to the gate and then we were 'flying through the air, sitting in armchairs at 35,000 feet' as someone once said.
The bags came quickly at Stanstead and JIC was soon driving us through the English night. Nice car, but I don't think I'll ever get used to the heated seats! Would Vixen still remember us, or would there be a barking fit. Needn't have worried, there she was, showing her excitement at seeing us again.
A glass or two of excellent wine, a lovely orzo salad (Orzo and Rice – hadn't realised they went so well together), some catching up chat and a fairly early bed.
Tomorrow we may go for a walk