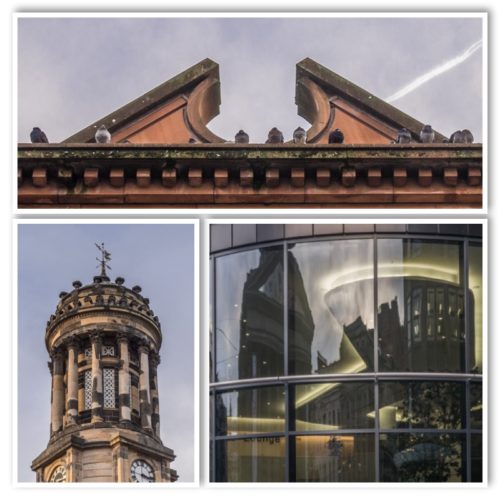 Well, almost.  There was some sun for a while, then it got tired and went behind a cloud or two for a wee rest.  It was there, though for a while.
Scamp had decided that we needed to go in to the toon today on the bus, because we were going for lunch.  As it turned out, it was a good idea, but we weren't sure where we were going.  It was finally decided that we would go to my new favourite restaurant / pizzeria, Paesano.  There, I've spelled it right first time without checking.  I checked afterwards, but that doesn't count.  I had pizza (everything is a pizza there) with Salsiccia and Friarielli (Friarelli are a green vegetable like Broccoli but are only grown in Campania and they are in a category all their own).  A pizza bianco which doesn't have tomato sauce.  I also had a side of lovely balsamic onions.  Scamp had Burrata (a fresh Italian cheese made from mozzarella and cream), Cherry tomatoes and Basil and a boring old Pizza Margherita.  Lovely!
Afterwards we went for a coffee in 'Nero and that was the extent of our stravaigin' in the toon.  Bus home too and the sun came out of hiding and started shining again for a while.
Not a lot to take photographs of today and I only took the one camera, the Oly 5.  I liked the distorted reflections of the buildings overlaid on the internal details of 110 Queen Street and it's my PoD.  When I got home I'd left myself a reminder to glue the little metal cap on my Oly 5 (It fell of the other day).  When I was doing it, I found a little metal circlip that had broken and decided to pull it off.  When I pulled it off, it unfortunately took the plastic shutter button off with it!  Oh dear, I've just broken what has recently become my go-to camera – of course the actual words I said were not "Oh dear".  The sentence was much longer and contained a lot of sweary words.  However, I managed to find the offending article and also managed to clip it back in place.  Then I glued on the offending metal cap with Araldite (other Two-part Epoxy Resin Adhesives are available).  It still seems to be working.  Moral of the story – If it ain't Really broke, don't fix it.  It worked perfectly before without the little metal cap.
Looking cold for tomorrow, but hopefully we'll be on a warm train for a change.  Letting the train take the strain.