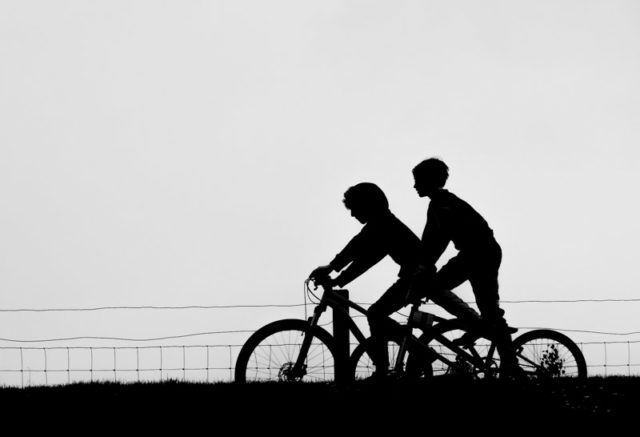 Very, very frightening.  For a while today at least.
Feeling a bit delicate this morning after spending an hour or so last night with sickness and diarrhoea.  I blamed it on the smoked mackerel I had for dinner.  I thought because the fish was cured, I would be too, but obviously that wasn't the case.  Did a bit of planting in the garden and that took my mind off it.  Now the raised bed now has Peas, Beetroot, Kale, Lettuce and Spinach growing in it.  I also planted out the mint we got yesterday and tried taking root cuttings from a mint plant we had last year.  Scamp planted some Parsley and cut the front grass.  The reason for the sudden rush to get things done was that the weather forecasters were predicting heavy and continuous rain today.
As I said yesterday, we needed shopping and so we drove to Waitrose in Stirling and got most of the stuff there.  As we were coming out, the rain started.  We headed for Morrisons to get the remainder when we found a Lidl and stopped there for some beer.  On to Morrisons and home in torrential rain.  Got home and it dried up with blue sky too.
There was a BMX competition on at Broadwood Stadium and I went down there later to get some photos.  As luck would have it two things happened simultaneously.
It started raining
The crowds started coming out of the track, because it was a tea break or a beer break or something.  I don't think they stop for rain.
I couldn't be bothered waiting around and should have taken some photos of the proceedings, but just went for a walk instead.  It was strange to see all these 40 somethings all dressed up and on their wee BMX bikes.  Reliving their misspent youth perhaps?  The rain just got heavier and more persistent, as per forecast, so I grabbed some photos around the dam at Broadwood Loch.  Taken with the Oly10.
Walked back home soaked below the waist to my ankles.  Top half perfectly dry.  Feet perfectly dry.  Thank goodness for the person who invented Goretex!
According to Wunderground weather app, the thunderstorm would strike at 16:45.  At precisely 16:48 the first peal of thunder rang out.  Now that's what I call a forecast!
Weather to improve a bit tomorrow.  Shame it wasn't better today for Brian Gregg.  He got married today.