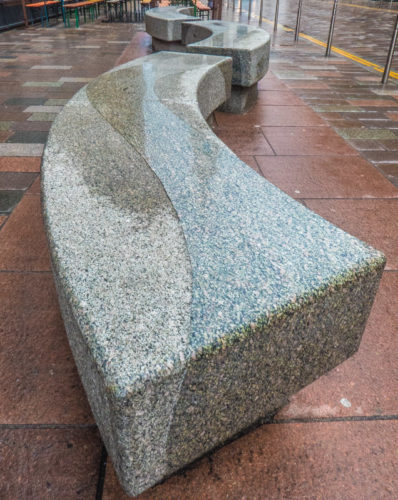 Out early to the Royal Infirmary and a bit of Urban Sketching.
In, Scamp delivered and the car park was full, so on to the next car park being careful of course not to scrape the car! The second car park, which was just across the road, was almost empty. So were my pockets! Only 80p in cash and a fiver in my wallet. Unfortunately the parking ticket machine didn't take paper money and the minimum amount was £1.60, exactly double what I had in my pocket. On to plan 2, or is that plan 3. I was pretty sure I could park on Ladywell, the long street between the Necropolis and the Cathedral. Loads of spaces and the parking meter that had a minimum charge of 20p. Obviously the cheaper side of town. Parked!
Went for a look at the Cathedral, because I don't like going to the Necropolis. It has a bad feeling. I did a 20 minute sketch that covered the basics, but wasn't at all brilliant. It was one in the bag. It had started to rain as I was finishing, so I made my way back to the car. Just got there when Scamp phoned to say that was her finished, so I drove back to car park 1 and picked her up.
With a bit of time to kill, we drove back in to town, parked in Buchanan

Galleries and went for a coffee. The place was ram jam full, so I went back to the car and got my sketchbook and assigned myself 20 mins to sketch Buchanan Galleries while Scamp went window shopping in the Galleries. While I was walking down Buchanan Street I crossed paths with a *STAR*. DI Jimmy Perez (AKA Douglas Henshall) had just walked into Sketchers wearing that same donkey jacket he wore all through the Shetland series! Got my sketch done, but it was a bit ropey too. Having said that, it was better than the Cathedral sketch from earlier. Met Scamp and we went to see if Nero was any quieter. Thankfully it was, but my coffee wasn't much better than the last time I'd been there. In fact, that might be "the last time I'd been there" for a while!
After we finished our brown water, we walked down to Blackfriars, but as we were crossing the road, Who should be crossing the road but the ex Doctor himself? Peter Capaldi. Today we were really walking in the footsteps of *STARS*. Of course Scamp didn't see him, but I turned her head and pointed it in his direction and she duly admitted that it "looked like him". Unbeliever!
I could say "With stars in my eyes I danced down the rest of the way to Blackfriars", but that would be pushing it, wouldn't it? Anyway, we had plenty of time, so we dropped in at Paesano first for a couple of pizzas which came straight from the oven and were delicious. Sat amazed watching a bloke holding his fork as if it was a dagger he was stabbing his pizza with. It was the most bizarre way of handling a fork I've ever seen.
Jive was a bit complicated, but now we have a version of 'Timesteps' in our heads and the Quickstep is firming up too. Waltz is definitely looking a lot better. Much cleaner turns help there. On the way home I picked up today's PoD, "Sinusoid" which is the curved marble seating in Brunswick Street..
Home and a quick look at today's sketches told me that there was only one Inktober No3 and it was the Buchanan Galleries. It has been cleaned up a bit and had a couple of watercolour washes applied, but it looks much better now. A worthy winner.
Salsa tonight was enjoyable, but the drive in was a nightmare. Crash just at the off slip for Great Western Road meant a lengthy detour, but we still caught a bit of the 6.30 class to add to our hour with the 7.30 class. Bumped into some old friends who were waiting for the 8.30 Thriller tutorial.
Tomorrow Scamp is out for coffee with Isobel and I've got a 1pm appointment with a man with a laser.