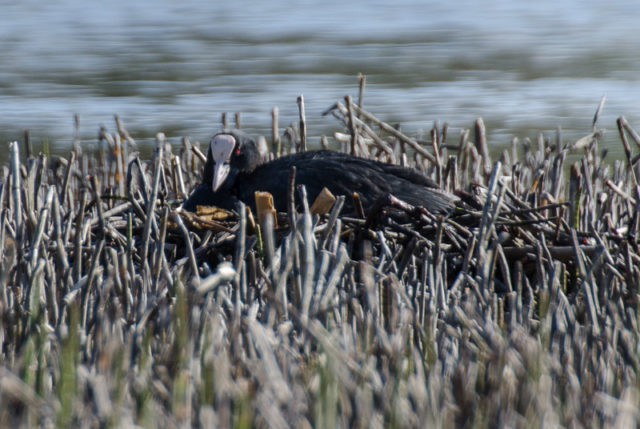 Dull start to the day, but prospects were good.
The plan for the day was to wait stay close to home in the morning just in case the Tesco man came early. By about 11am the sun was out and people were out in their gardens. Went out to speak to the next door neighbours and find out how they were coping. Just the same as us really and it looks like they are keen gardeners too almost as keen as Scamp.
I'd quoted the wrong time slot yesterday for our delivery, it was in fact 11am until midday and he arrived just before midday. With the stock cupboard back to healthy numbers, we had lunch and considered our options for the rest of the day. We needed some fruit and something for tonight's dinner, so a walk down to the shops was in order.
Bigger queues today. My theory is that those working from home are trying their best to work what used to be a normal week, I.e. Monday to Friday. That leaves their weekend free and that freedom means they can shop. Hence the bigger queues than during the week. We got in fairly quickly to M&S. Slightly more expensive, but shorter queues, and on a day where the sun was shining, but a cold east wind was blowing, M&S was a good option.
Walked back and after some encouragement from Scamp to "Go out for your walk", I did just that and took the Nikon out for some exercise in St Mo's. Lots of folk walking round the pond. I don't think the folk who designed the new boardwalk intended the widened 'passing places' to be used to maintain Social Distancing, but they work well in spring 2020. I had decided to wear an old hoodie instead of my fleece for a change. It was warmer and it doesn't get out much. I think it's about ten years old now and I've probably worn it less than ten times!  It was almost too warm when I was in the sun, but in the shade and in the wind it was quite cool.
I wanted a photo of a coot sitting on its nest away at the far side of the pond. The coots build their nests on floating pontoons of reeds, rushes and horsetails. This one was in an almost unreachable place. I say almost because I thought I could find a way through the bushes to get to it. It took a while and a bit of scrambling to find a spot near enough the nest, but no too near to spook the bird and with a good line of sight. The hoodie was ideal for the task. Hood up I could push my way through the brambles and hawthorn bushes to get to where I wanted to go. When I got there the coot had left the nest to chase off a potential interloper if the shape of another coot. I waited, because I was fairly sure she'd come back to the nest once the offender had been chased off. So she did after about ten minutes sailing up and down the periphery of the reed bed she returned to the nest, got comfortable and sat on the eggs again. I got as many shots as I dared without worrying about frightening the mother away. After that I made my exit.  The coot got PoD.
Back home it was curry for dinner. Not home made and not carry-out and not just any curry, this was M&S curry. I'd made flatbread in the afternoon from brown wheatmeal flour. When I got home it had risen and was looking good. Curries were hot without being too hot, my lamb rogan josh was a bit lacking in the lamb section and Scamp's was certainly Hot, but quite good. The flatbread was a definite hit. I'll make that again.
Tomorrow we may go for a walk as the wind is from the south and hopefully it will be a bit warmer.