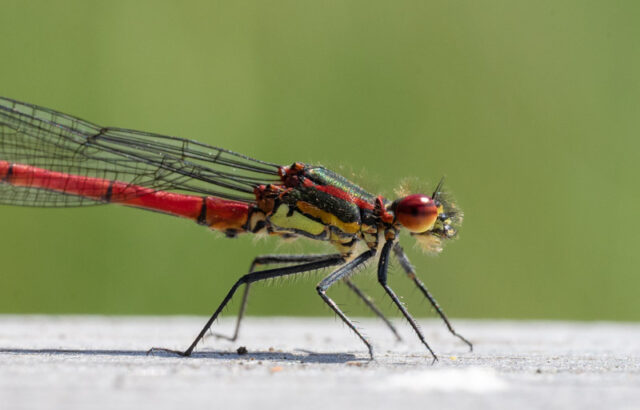 Long may it last, even if we do have to water the garden!
After lunch we went for a walk round St Mo's pond and stood watching the damselflies. I managed to capture one or two of them, or it could be that I caught the same one once or twice. Who knows with damselflies, they all look the same, don't they? Well maybe not, because occasionally you can spot slight differences in their wing structure, some also have defects that mark them as different from the rest, just like humans, I suspect. Anyway, I was using the Sony camera and the Sigma macro lens and I did manage to get a PoD.
From St Mo's we went down to Broadwood Stadium to extend our walk and take in the exercise machines path, then back across the dam through the houses and the underpass before climbing the long steep hill to St Mo's school and then home. Not a bad walk. Later I wanted to see if any dragonflies had appeared, so I went for a short walk over to the pond, but there was no sign of life and it was getting late in the afternoon, so I headed home, because tonight was a dance class and I didn't want to be in a rush to get dinner made and get a quick practise in. I needn't have worried, Scamp was on the ball and had my burger cooking while her scallops were waiting their turn to go in the other pan.
Dance class tonight started with Mambo Marina which is a fairly old sequence dance that we learned months ago, but of course I'd forgotten bits of it. A quick reprise from Scamp and I was good to go. The Foxtrot was going to be next and it was nowhere near as easy as the MM. Lots of little tricky bits to it and we couldn't agree on the correct footwork, but Jane and Stewart soon ironed out our problems and it was plain sailing after that. Last part of tonight's lesson was the Cha-Cha. It is such an energy sapping dance. Most of the moves are fine, but it's that little cha-cha step that has to be done right to keep in the tempo of the dance, that's the problem. However, we managed to get it completed without too much trouble. We sat in the garden to cool down after that with a couple of beers. It really was a beautiful night.
Spoke to JIC later and got the low down on house hunting in and around Cambridge, Simonne's run today and how JIC's ankle injury is doing. Gave him some sage advice from his gran on how to prevent birds from eating all his veg. Black thread was her secret weapon. I imagine it works equally well with English sparrows as it did with Scottish ones! I hope so anyway.
Watched a Crash – Bang, Baku GP. Not driver errors this time, but tyre failures. More like Wacky Races than a GP!
Tomorrow morning Scamp is off to have coffee with June. I'm hoping to finish my epistle to Alex.