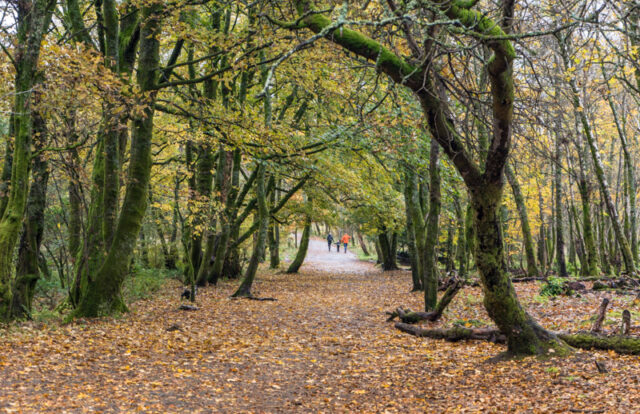 That used to be the name of hand wipes. Now it seems an apt description of the days this week.
The sun was splitting the trees this morning and we took a chance on it staying with us when we drove over to Mugdock Park. It was a bad choice. At least, for the choice of weather it was a bad one. It rained on and off all the way there, but we'd come prepared with raincoats and boots. We needed them. It was just liquid air we were walking through for a while. Down past the old ruined 'Big House', then down the hill to the tree lined walk. Crossed the boardwalk over the bog to Mugdock Castle on the banks of Mugdock Loch. We were in and out of the trees all the way, but I did get a few shots through the trees and of the trees themselves. It was a bit dreich, but the colours were beautiful and the company was good. We continued round the loch in the hopes of getting a cup of coffee in one of the wee cafés, but one only had outdoor seating with no available umbrellas. One only had uncomfortable bar stools available and by that time the notion had left us. We changed our footwear and went home. Annoyingly, the closer we got to Cumbersheugh, the better the weather became and when we arrived home, blue sky was showing through the clouds.
After lunch Scamp drove to Halfords to get a rear wiper fitted. I told her I could do it. The biggest problem was taking the old one off and I'd done that at the weekend. Not without a fair bit of wrestling. With the wiper in place we tackled the scrubbing down of Scamp's car. It needed it. One of our neighbours who was watching the action said "Oh, so it's a Red car then!" That is its first wash this week. It's going to need at least one more, probably in a carwash before it goes for MOT next week.
Dinner tonight was Chicken Tikka Masala and I was chef. It was a slightly less than successful curry. I don't think I'll be using that recipe again.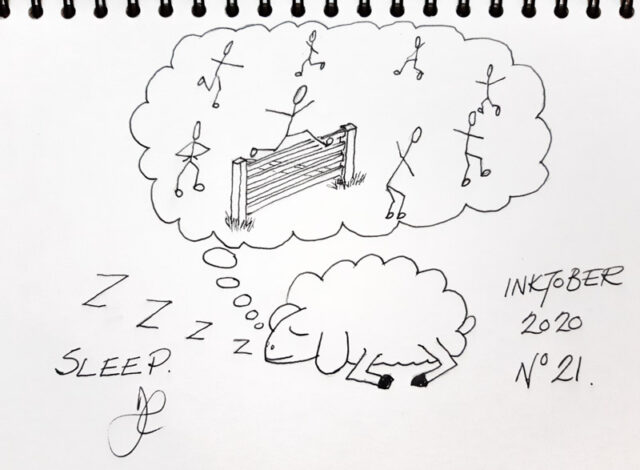 Today's prompt was "Sleep". Another vague request. Thinking along the lines of "Do Androids Dream Of Electric Sheep?", I asked the question:
"Do insomniac sheep dream of counting humans?"
Answers on a postcard please.
PoD was a grab shot walking through the avenue of trees at Mugdock. I don't know who the bloke was wearing the red jacket, but thank you sir for providing my focal point. ARPS = A Red Point Somewhere!
Tomorrow we're booked for breakfast at Calders with Isobel. Let's hope the rest of the day is not another Wet One!