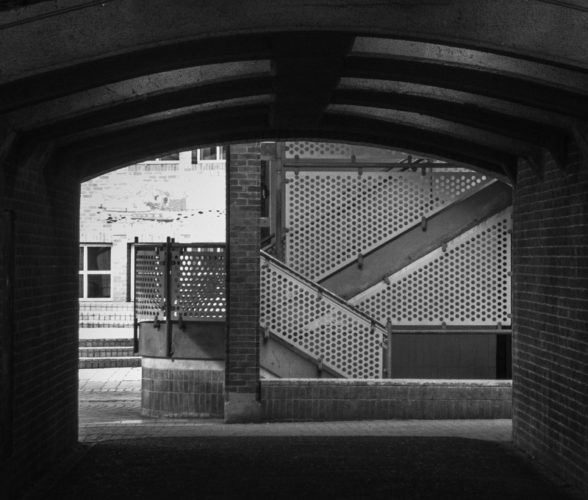 In Kingston on Thames today on the bus.
Went to a Nero for a coffee. Seemed to confuse the poor server with "Sitting in. A regular one shot, extra hot latte and a regular americano." She replied "To take away or to have here." I growled, "Sitting in, that's what I said." Probably took her too far off the script. The bloke next to me said "I'm surprised she understood you with that accent." Hackles up! "Sorry, I couldn't understand you with yours", I replied. He just laughed and asked where I came from. I gave Scamp's non committal reply "Just outside Glasgow". Then he told me he came originally from Motherwell, but moved down to London when he was 21. Went to work at IBM. "But," he said, "I was a smart bugger then". I questioned the 'was' and he just said that brain cells deteriorate with age, then went on to explain all the medical problems he'd survived, finishing up by saying that he had a 6 year old sitting outside. I said "Good for you!" and he just laughed and said "It only took a minute." Both us burst out laughing. Then he took his tray outside, stopping to have a word with Scamp. When we were leaving, I tapped him on the shoulder and told him I originally came from Larkhall. "Oh my God." he said "Where the crows fly backwards!" I don't know when I last heard that one. Probably when I was at school. Wished him good day and he did the same then we went on our way.
Wandered round the town looking for a coffee shop that Neil had told us about where you could buy coffee beans. Finally gave up the search and went for a walk along the river on a breezy day with bright blue skies and a few white clouds overhead. Sat for a while and sketched a bit of the river and the boats moored by the path while Scamp remarked on the variety of boats on the river. Big boats, small boats, a wooden scull and a full paddle steamer. Finally gave up when I realised that the sketchbook wasn't going to take the watercolour paint, it just sort of beaded on the surface.
Went for lunch in a wee cafe selling home made quiche and vegetarian food served with healthy looking salad. I had Salmon Quiche and Scamp had Veg Lasagne. Both of us tried each others, but both settled on our own as the better option. My side of Sweet Potato with Chilli and Kidney Beans was delicious. Walked on to Bentalls where Scamp found a set of four glasses to replace or augment ones we have at home. One of which is missing. I went to the Apple shop to try to find out how to get Apple Care, but I think it should be renamed Apple Doesn't Care. They don't seem to want to sell it, telling me that I'd have to bring my computer in to the store so the 'experts' could check it over first before they'll allow me to give them money. No thank you Apple, that's not how it works. It looks to me as if they are only interested in selling you Apple hardware and aren't interested in after sales service.
We did eventually find the coffee shop, but neither of us were that impressed with their coffee and at £8.50 for 250g it was just a little over the top. Also over the top was the nearly £15 I paid for a G 'n' T and a pint of IPA. Admittedly it was a double G, but £15 for two drinks? What is it with London prices. Blame Brexit.
Bus back to the house and Neil was on dinner duty, making Spicy Prawn Risotto. We have now got the recipe!! Pudding was Vienetta. Something we haven't had for years. Watched another film, Victoria and Abdul which was quite funny.
Today's PoD was taken under the bridge over the Thames. I just liked the patterns.
Tomorrow Neil is taking us somewhere if his viral infection is not too bad. Not sure where yet.