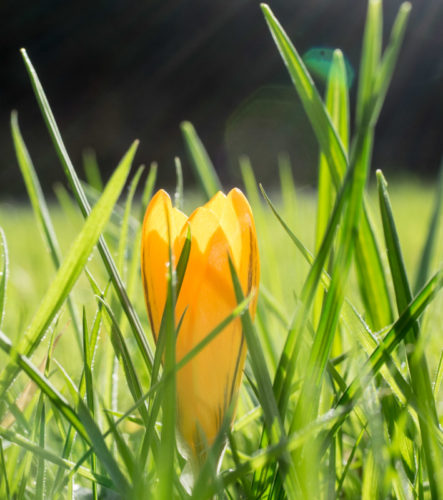 How nice to see a bit of sunshine again after all the rain and wind.
It was cold but bright and I really enjoyed my morning coffee sitting on the sofa in the sun. You could actually feel the warmth of the sun. Of course it did rain to, but not enough to speak of, so I won't speak of it.
After lunch and after watching Andrew Marr doing battle with Nicola Sturgeon who put up a valiant fight I have to admit, I went out for a walk. Fell on my backside taking lots of photos of cladonia variants, but I only took five of the little yellow crocus growing in the front garden. One of the many Scamp has planted there. It was the little yellow crocus that got PoD and I didn't even fall on my backside taking it!
Even managed to plant some Chestnuts in pots in the wee greenhouse .  Hopefully they will be more successful than last year's no-show, but there's no guarantee of that with wild seeds!
Swordfish steak for Scamp's dinner with potatoes and cabbage. For me, exchange Rump steak for Swordfish. Just a relaxing day after yesterday's dance extravaganza. The sunshine lasted all day with the occasional rain shower to remind us that it's still winter. Apparently we will be reminded even more strongly later tonight or early tomorrow morning when snow showers are forecast across the central belt. May have to change my plans as I'm hoping to meet the Auld Guys for coffee tomorrow. Let's hope not.
Spoke to Jamie and heard about his forthcoming surprise trip to Boston. It's a work trip, but it's still a trip to the US. More power to his elbow, he certainly works for it.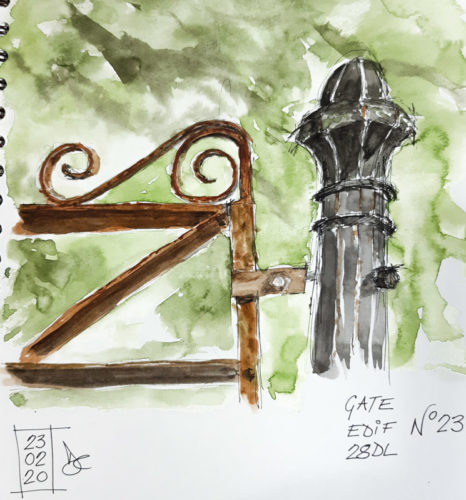 SoD prompt was 'Gate' and I struggled with this one. It's a gate we passed on the banks of Loch Leven in Fife. Such skill splitting the bar and then producing the curves. I'm not sure I've done it justice, but it's as good as I can make it.
As I've said, I should be meeting the Auld Guys tomorrow for coffee and adult conversation. Maybe even a bit of book swapping. It all depends on the weather.