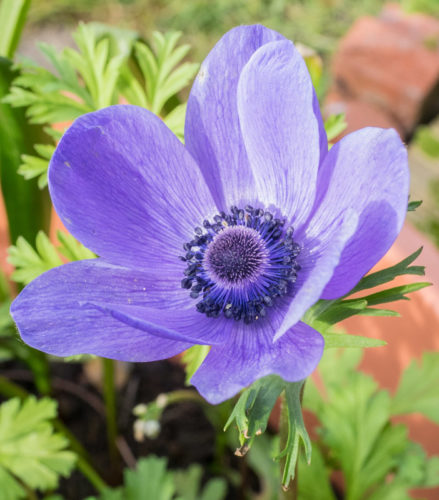 The day began at about 6am with a blackbird singing its story … loudly.
Maybe it's something to do with these strange days, but for the first time I actually listened to the song of the blackbird. It seems to sing a story, almost as if it's reading the news, a topic at a time. Listen to it the next time you get a chance. This isn't a mating call, nor is it the "Dik! Did!" alarm call. This song doesn't repeat like most birdsongs seem to. It's a story. A story only other birds, or maybe even only other blackbirds can understand. Maybe this is all in my imagination, but I don't think so.  I eventually had to close the window and thank the genius who invented double glazing.
I got an email from Hazy with a link to an incredible Sudoku solution for a grid with only two numbers in it. It wasn't a normal Sudoku puzzle though. It was chess sudoku with additional rules based on the King's move and the Knight's move in chess. However the solution was fascinating to watch.
We walked down to the shops in the late morning to get some of the raw materials for tonight's dinner and also something for lunch. Shops were incredibly quiet, even Aldi which is usually mobbed had no queue. For the first time this year, I think I went out without a jacket or hoodie of some description and the light bouncing off the new paving slabs at the shops was quite blinding. A warm day was on the cards.
Scamp cut the front grass and then after lunch we sat at the front for a while, soaking up the rays. Scamp had her factor 50 on just to be sure. I have to apply it to her back and the back of her neck and that's why my hands are always white. They don't get the chance to get a tan!
After a while Scamp disappeared for a while. I eventually found her in the back garden, gardening. The usual things. Cutting some stuff, pruning others, weeding and transplanting things. In her element. I finally agreed to be roped in and cleaned out some of the old strawberry hanging basket. Together we repotted the Skimmia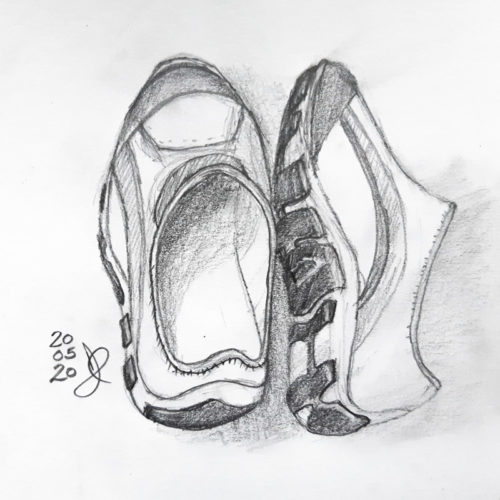 into what had been the Chrysanthemum pot. Then she went and split up the Eryngium that was growing quite happily in a pot at the front. Massive big tap root on both the plants. Eventually I gave up on this gardening lark and went inside to draw today's sketch which was on the topic of Shoes. My slipper/clogs were the model and I was fairly happy with the result. Pencil sketch only this time. By that time the gardener was finished and it was time to make the dinner. Another tray of chicken with roasted veg. Tasted quite good, but needed more salt. We're working our way through a cookery magazine, by the way. A strange cherry flavoured jelly for dessert. Interesting, but not something I'd actually go looking for again.
PoD was a lovely delicate blue Anemone Coronaria Royale.
Too warm for central heating tonight, but I think we might need it tomorrow. It's going to get cooler, wetter and windier as we get closer to the weekend. Oh, yes, and happy birthday to Murdo in Skye!
Tomorrow we may need to collect Scamp's prescription so someone will be driving.