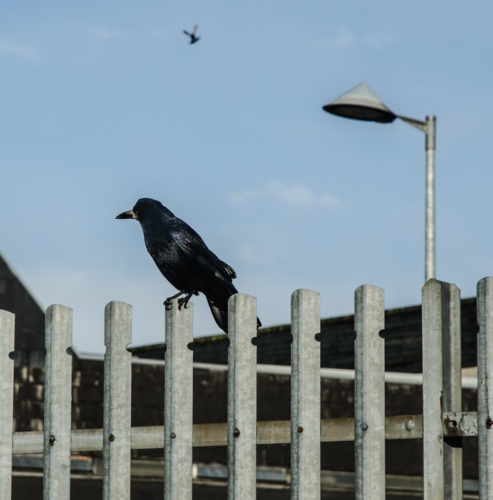 Yes, it was a better day than yesterday, but that wouldn't be difficult.
We were driving to Wishaw General hospital for Scamp's checkup today. Nothing to report, everything normal. It's hard to believe that a year ago just now, the whole thing was just starting. Now, a year later we're so grateful for that short conversation at salsa class.
I'd half intended driving in to Glasgow afterwards, but it was so cold and dismal, we decided to go straight home. Scamp had still a lot of prep to complete too before the Witches Christmas banquet tomorrow and I was hoping against hope that there would be a short break in the clouds to allow me to get out to take some photos. As it happened, we both achieved our stated goals.
While Scamp was out emptying the shelves at ASDA, I got ready to go out because the sun was shining. I'd just got changed and putting my boots on when the rain came on. I waited until it went off and grabbed my camera. Pity I didn't look in the camera bag first, then I might have noticed the absence of the Tamron lens. I got today's PoD outside the park. A rook sitting on the school railings. The pigeon above its head was a 'lucky'. In the park I noticed a deer wandering around aimlessly just on the tree line. Carefully took out the Nikon and noticed that it had a short lens on. No long lens in the bag. Not to worry, I had my trusty Teazer in my pocket. Grabbed two shots and realised immediately that something was wrong. The camera was set to full automatic, which means its zoom is a combination of optical and digital. Never a good thing. By the time I got the settings changed, the deer, two of them were off and running into the trees. The images were useless. Basically, they were just cropped JPEG files.
Walked home with the rook photos in the bag so all was not lost and made pizza for lunch. It was good, but not great. Need more practise with oven baked pizza.
Spent the evening beginning the tidy-up for Jackie arriving next week. I've now found a sofa in the back room under discarded jeans, tee shirts, a couple of bags and a couple of drawing boards, so at least she'll have somewhere to sleep! May have to continue the exercise over the weekend because I'm sure there's a carpet under all the magazines. Looks like there's a cold couple of days ahead with ice and snow forecast for tomorrow and into the beginning of next week.
I'd dropped Scamp off at the entrance to the hospital this morning and gone to park the car. At least, for once the architects had considered the parking requirements of this new hospital, but it was when I was walking back to the hospital building that I noticed an almost total lack of sensible footpaths. Yes, there were some twisty turny pretty looking pathways, but they simply aren't practical. Once you've parked at a hospital, you just want to get into the building as quickly and as safely as possible. I was mulling this over as I was walking out of St Mo's too, when I realised that the path I was following was made by the deer. Now, here's an idea for the architects. Instead of creating meandering paths that look pretty, but are impractical, try this. Just grass the whole area. Keep the grass cut for about a year. After that people will have made up their own minds where the paths should go. You may not like it, but they will have taken the shortest and safest routes from A to B. Now all you need to do is turn those muddy paths into real walking routes with tarmac or paving slabs. I'll even allow you to put curves in to satisfy your artistic desires. Now everyone is happy. If you later find that a new 'people route' had been created, firm that up too and there you have a democratic set of walking routes. If you want you can mention that you saw the idea here!
Tomorrow it's my turn to cook.
Bread is out of the freezer tonight and thawing as I write. It should be good to prove (rise) and be baked tomorrow morning. If not I will have time to make a new batch.

Veg to chop and filo pastry to form into nests for the starters. May have time to bake it before I go out, if not I'll leave it in Scamp's capable hands.

Time to make myself scarce. I think a trip in to Glasgow is on the cards.