Up and out fairly early to get my fasting blood taken and then a quick trip to Tesco to get some essentials for my breakfast.
With a plate of porridge and a piece 'n' jam under my belt the world was a better place.
Next thing to do was to go and get Netta for Gems tea party.  A pleasant enough drive to Denny and back.
I now had an hour and a half to myself now and decided to fritter it away by going to the gym and stretching my leg muscles a bit.  I had hoped that I'd have time for a quick dip in the pool, but time was too tight for that.
Back just before 3pm and time to get a shower before returning Netta home.  Back home I started on today's photo which you see above.  I'd tried it last week, but wasn't happy with the result.  Today I had it better planned.  The wee man or to be more exact, Weeman was sitting on a stone in the birdbath.  His 'fishing float' was actually a dressmaking pin with the point cut off.  It was pushed into a piece of Bluetack which was sitting on the concrete floor of the birdbath with just the tip of the pin breaking the surface.  Fishing line was black button thread.  It worked and there was minimal 'fiddling' required in Potatoshop.  Then it was time for dinner.
Before starting to make dinner.  Just a quick check on Facebook to make sure that there had been no last minute changes to Salsa class, and there it was.  Jamie G was in Cheltenham, not in Glasgow and he would be there all week!  Bummer.  I was so looking forward to a bit of "exercise and getting things wrong again to music" tonight.  (Also known as advanced Salsa.)  Scamp started emailing contacts to find out who would be taking the class and the two of us began discussing what, if any, the options were.  We decide that if Will was taking the class, then we'd go.  If it was Colin then we wouldn't.  If it was Cameron, then that was a definite NO.
Will is a good teacher with a lot of good innovative moves.
Colin used to be good, but is now trying to incorporate cha-cha into everything he teaches.  Such a waste.
Cameron has been dancing for about three years and thinks he knows it all.  He doesn't, unfortunately he doesn't know that.
Word came through that it was Cameron.  Why do we have to find these things out on Facebook and through word-of-mouth from other class members?  Surely someone in the Academia de Salsa organisation knew that one of the teachers wasn't going to be there and could have posted a message to that effect on the AdS website.  Why is it all such a big secret?  My guess is that if the class members are told in advance, they won't turn up for class because they have suffered at the hands of the incompetent teachers before.  If they don't come to class, then they won't be paying and that will hurt AdS.  Just my take on the situation, but really, things need to change.  You can't keep treating people like rhubarb (keep them in the dark – feed them shite.)
With that news, we decided that we'd go for a walk instead to lift our spirits and get some exercise, even if it wasn't to music.  We walked round Broadwood Loch and I got some shots of ducks and a lovely shot of a Great Crested Grebe with the Teazer.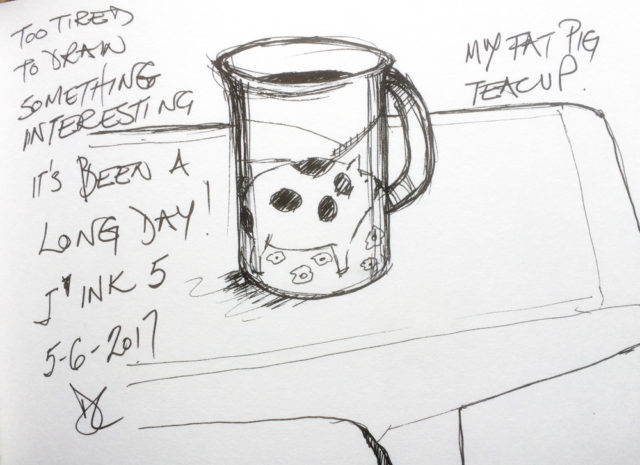 Today's sketch is basically a placemarker in that it was done to fulfill the requirements of the remit.  Better tomorrow.
Rain predicted for all day tomorrow.