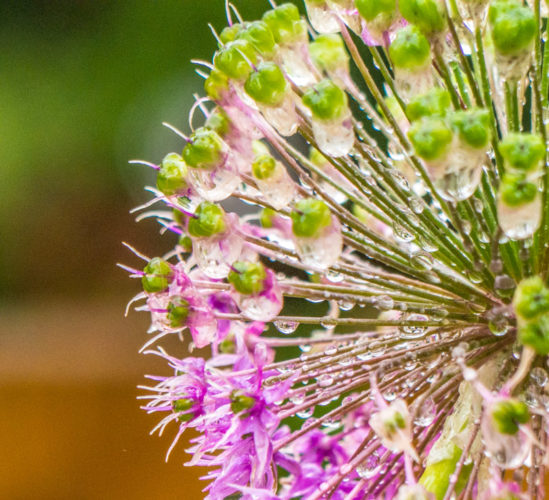 It was raining in the morning when we got up. It rained all day and it's raining still. I don't think there's been a dry minute.
There were no plans for today, luckily, so we just had a lazy morning. I saw the effect of the rain on the alliums and decided it would make an interesting photo. Unfortunately it was bucketing at the time and none of my cameras are weatherproof, but they are when you wrap them in a Timson's bag. Low tech meets high tech.
Just before lunchtime we went to Westerwood, me to stretch my legs and Scamp to swim. Just to confuse everyone and only for today, ladies were to use the gents changing room and gents, the ladies. The reason was that two blokes were fitting new locks in the ladies changing rooms. The new locks are push button coded. You type in a four digit code – twice then close the lock handle. No key to lose (I lost mine in the pool on one of our first visits.) No deposit to pay for the key. No having to ask for an odd numbered key to get a decent sized locker. No, it was almost as if we were in the twentieth century at last. There are obvious shortfalls that the devious will exploit in the next few weeks and then the batteries will fail and all have to be replaced at the same time, and how much will that cost?? Still, it's a pleasant move forward on their part and we should be grateful.
Gym was interesting now that I've worked out (or to be more exact, Scamp has worked out) how to display my actual heartbeat, rather than my resting heart beat. Did my reduced machine torture and felt better than yesterday. After that I had a swim in a nearly empty pool. Wonderful.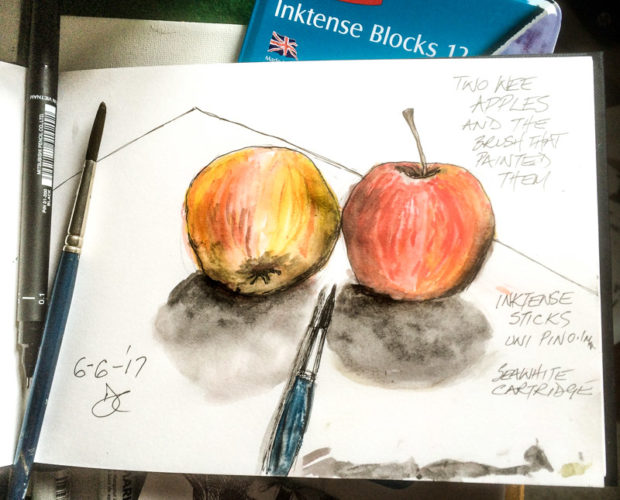 Came home and started on today's sketch which I'd decided would be, must be better than yesterday's effort. I hope you agree.
Dinner was Scamp's excellent stir fry.  One of my Tuesday night favourites.
Irene is to be teacher for the beginners class tomorrow night at Salsa. That should be interesting. I've said for ages that Shannon should have another female teacher and Irene's encyclopedic memory of moves and her strict timing counts will help her do well, at least I hope it will. I also hope she gets paid for her hour's work. Shannon doesn't have a great record on that count.
Off to Wishaw tomorrow morning for Scamp's checkup. Coffee booked with Val for the afternoon.