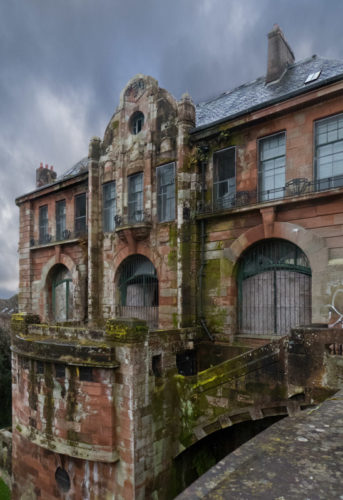 Today we went to Hamilton for a curry.
Yesterday was such a grim day and a bit of a let down, so we decided we'd go to Hamilton today for a curry.
And a very good curry it was too. Actually too much for both of us and with the size of the nan bread in this restaurant, you are really full when you waddle out the door. We walked back into Hamilton itself, although there wasn't much to recommend it. It was the night they turn on the Christmas lights and as usual there was a fair attempt at a celebration … in the rain. There was a band in the rain and there were dancers in the rain. I really felt sorry for the dancers. At least the band were under cover as was the master of ceremonies, but the poor dancers were out in the rain, some of them lying on the wet ground. Poor wee things. We stayed for about five minutes before we chose to take a short cut back to the car.
We walked through parts of Hamilton I've not been in for years, down beside the Cadzow burn. In the summer it's quite a pretty place with walks along the burn, but in the winter it's dreich. Did you notice that 'dreich' is the number one favourite Scottish word? That's because it's so often dreich in Scotland. It was certainly that today. On our walk down to Hamilton town, we'd passed one of the creepiest building I've seen in the UK. It used to be a department store and there is a well researched history here: https://bit.ly/2s4yE3p Certainly worth a read.  With the right lighting this really is a sinister looking building, especially from the Cadzow Glen.
Our walk took us right back to the car and we drove home in the rain. It really was a wet day. The photo of the creepy Keith's Building made PoD.
No Sunday Social tomorrow and no plans made. We'll just have to see how the land lies in the morning.