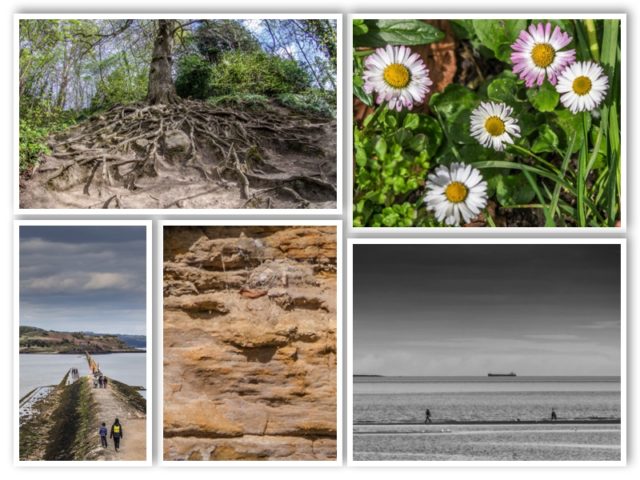 Not real Toblerones, just my nickname for the anti-submarine defences on the Forth at Cramond.
We walked up the path beside the River Almond past the ruins of the old mill, or should I say through the ruins because the walls are still there with archways and window spaces, but the roof is long gone.  We didn't get much further past the dam because the path has been closed off by the council as being in a dangerous state.  Such a shame as it's only a very short stretch of path that's been condemned, about 3 or 4 metres really.  It appears from the maps that have been posted that beyond that it's fine.  Anyway, that was the end of our riverside walk.  Saw a Japanese bloke on our way down the river kitted out in chest-high waders and with a fly rod.  I didn't think he'd get anything today, then a couple of mayflies flew past, so the flies are emerging in the warm weather we've been having and he might have caught something after all.
We stopped for lunch at the wee cafe at the Mill House.  My lentil soup and toastie was great, but Scamp's poached egg on avocado and sourdough bread looked a bit insipid and underdone.  She wasn't impressed and told the owner so.  The cheese scone she received to replace the poached egg was too hard for her taste.  She really is spoilt after having tasted my scones 😉
After our aborted lunch we walked down and had a Mr Whippy ice cream each!  There were no words of dissent!  To walk them off, we strode out along the esplanade watching weans on bikes, neds on bikes, weans on scooters, dugs (not on bikes or scooters) folk in paddling!  It really is a bit early for paddling.  Yes, we did it in January, but that was in Trinidad!  Walked for about a mile or so and turned back to the car and drove home.  Lovely day, walking in the sunshine in good company.
Eventually relented and found a human in Currys and got the keyboard I wanted.  Sometimes you just have to bite the bullet.  Scamp says it's about not cutting off your nose to spite your face, or am I mixing my metaphors now?
Before we went out, I got a book delivered, a painting book.  I'd borrowed it from the library and it was worth buying.  Unfortunately, it was out of print but available for a few quid second hand.  It almost cost as much to post as to buy, but it was in almost perfect condition.  I'd consider this option in future.  Maybe I've just been lucky today or maybe second hand books, like second hand cameras are worth looking at.
Tomorrow?  Maybe a walk down the green to collect more steps, miles and maybe even stairs climbed.