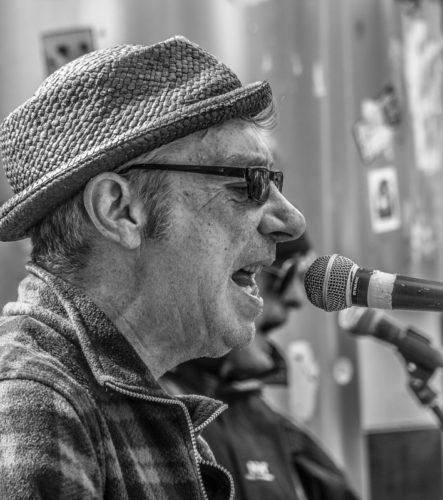 The toy in question was a Fitbit Charge 2. Scamp had decided that since I'd been using the cheapo Goji Go since Christmas, perhaps I'd like to move up to a more sophisticated model. The price was good in JL and so that's where I got it. More on it later.
Clutching my new toy in its box we walked down Bucky Street and had coffee in the Nero at St Enoch's after listening to four old guys who perform under the name Buchanan Street Preachers. They sing old stuff, our music,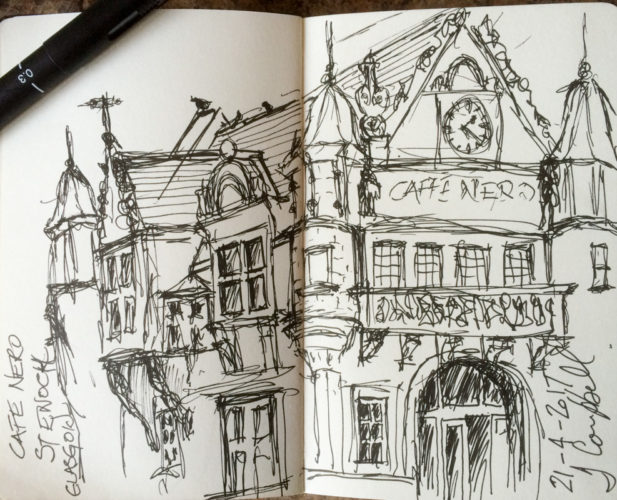 from the '60s and '70s and are good to listen to. I photographed them and Scamp gave them a couple of quid for their efforts. I managed a late sketch for my one a week. It was of the amazingly detailed building that now houses Cafe Nero. It used to be the underground station and is a Cat 'A' listed building. I was quite pleased with the finished sketch, especially the crinkly bits. It was a 20 minute job and the perspective is ok, but the proportions are poor.
On the way home I wanted to try to get the BT keyboard in a different Currys. They didn't have the one I wanted, but they did have an alternative that looked just as good and at exactly the same price. As I was walking to the till I noticed a label on the box to say it was 'pre-owned' one. It was the last one on the shelf. When I got to the till the assistant checked the price and told me the same price as the label on the shelf. I explained that it was pre-owned, so what was the discount. No discount. "It's probably just someone took it home and didn't like it" he said. So it's not someone took it home and the dog peed on it, so they brought it back? So it's not someone took it home and spilled coffee on it, so they brought it back? "No, they probably didn't want it." I told him neither did I and left, keyboardless. What is wrong with Currys these days? They were never all that great, but a few years ago they seemed to be improving. However, if they continue to employ managers who can't manage, managers who ignore customers and robots who are 'only obeying orders', they are going to go downhill fast. They are certainly losing me.
Back to the Fitbit. It's quite an amazing upgrade from the Goji Go. Not only does it count steps, distance travelled and calories burned. It also counts stairs climbed and checks heart rate. Even better, it doesn't have to be told what time you are going to sleep, it works it out itself, based on heart rate and the fact you're not moving. Best of all is that you can get replacement straps for the inevitable time when your strap wears out. It's much smoother and less bulky than the Goji. All in all it's a brilliant upgrade and not in any way a toy. My only problem is getting it to sync to the Mac. I think I've solved that problem. I thought the Mac had Bluetooth 4, but what I was reading was the Apple Bluetooth software version. The actual chipset is Bluetooth 2 which is not supported by the Fitbit. Looks like I'll need a BT dongle.
Hoping to go to Cramond tomorrow.