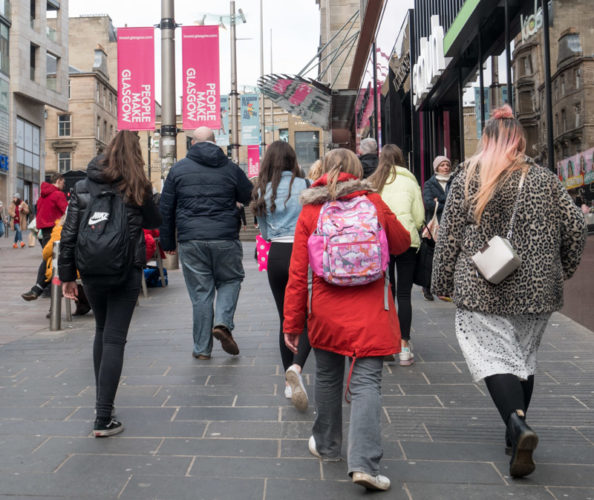 Scamp suggested it and I agreed. A day in Glasgow. No driving, no dancing, just a day in the Toon. Sounds good to me too.
Walked over to Condorrat and got the eXpress bus to Glasgow. Coffee in Nero first then a walk through JL. Visited the 'toy shop' on the top floor, just to see if there were any bargains on show, but of course, there weren't. Didn't really expect any, but I'm not in the market for bargains anyway, so I wasn't really bothered.
The new Aaronovitch book (with luminous cover!) from Waterstones and the prospect of a pair of Wranglers in TJ Hughes took us along Argyle Street. The book was bought, but the jeans weren't. Mainly due to the lack of ability in TJ's staff to assess the size of the queue and stop changing tags on stock and man (should that be 'person') the tills instead. Nope, Job Demarcation demands that I stay at the job I was given and not deviate from said job until sanctioned by a more senior member of staff Or in other words "I was only obeying orders". Left the jeans back on the shelf and walked out. How do these stores survive? Especially when others like JL are sinking?
In Paesano, a Number 3 pizza (anchovy, olive, capers, mozzarella, sugo and EVOO) for me and a Number 1 pizza (Sugo, rocket, No garlic, No cheese) for Scamp with two glasses of house red saved the day and brought a little bit of Italian sunshine to Glasgow.
Walked back to the bus station via Cass Art for black watercolour paint and a cheap sketch pad then caught another eXpress bus back to Condorrat. Walked home with smiles on our faces. It was a good day.
PoD was some folk heading up Bucky Street for the bus home after 'Making Glasgow'!
Scamp made Chicken Goujons for supper, washed down with another glass of red wine.
Tomorrow we're hoping to be fed at Cotton House, with the prospect of a walk afterwards.