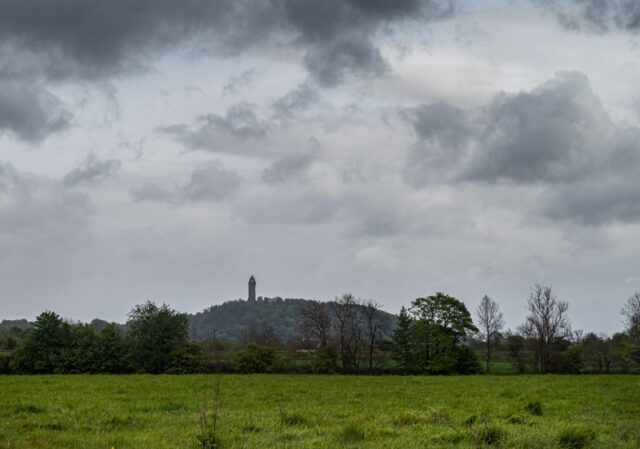 It rained. Nice weather for ducks and also swans.
Spoke to Hazy in the morning and got a low down on weather in Epsom, which sounded exactly the same as it was here. Wild and wet. Found about their trip to Wales and pleased that Neil D is expecting to return to work on Monday. A nice rambling conversation that brightened our day.
We drove to Stirling after the phone call mainly to visit Lakeland, but also to get out of the house for a while. No point in attempting a walk the rain stopped that idea. We went to the mini shopping centre that holds Lakeland and Dobbies, one of the last Dobbies after the business was chopped up and sold off. It still holds the Dobbies name, but who knows which conglomerate owns it now. The big "D" was once a garden centre, but now it's become more of a department store with various different enterprises under its roof. Strangely, it's possible to walk through from Lakeland to Dobbies although they are separate businesses and don't share the tills. Scamp wanted a new cling film dispenser in Lakeland and I wanted some proofing wax or cream for my new boots. We got both, but also an assortment of other useful things, plus tonight's dinner and a couple of plants. I took some photos of the Wallace Monument while we were there. It was a bit distant, but it was sitting under a glowering, but interesting sky. It made PoD. We drove home with a pizza for lunch from Sainsburys and tonight's dinner from Cook. All from under that same Dobbies umbrella.
When we got home and after lunch, Scamp started the ironing and, as the rain had stopped and the clouds had lifted a bit, I went for a walk in St Mo's, sticking strictly to the paths. Not much to photograph or to challenge the Wallace Monument for PoD, although I did laugh at the two resident swans out swimming with their seven, yes, SEVEN cygnets. Initially Mrs Swan was trailing three of them and Mr Swan escorted the other four. Then after some unseen signal the two groups of cygnets merged and created a convoy with mum at the front and dad at the back. Then off they paddled to the nest on the island. A photo is on Flickr.
We had a curry from Cook for dinner. Scamp had Chickpea Curry and I had Chicken Jalfrezi. Scamp complained that her's wasn't spicy enough. I had to add some yogurt to mine to cool it down. Maybe we should have mixed them for a medium hot curry. Still, it was as good as an M&S curry, but with a bit more flavour. I think we'd try it again.
I bit the bullet today and signed up for the subscription deal with Adobe. So far it's working really well. It runs faultlessly on both machines and although it's more expensive than other photo processors, it's the one I know best. Some of it is pretty useless to me, but that's always going to be the case. I'll check it for the fourteen days I'm allowed before I need to buy it and then I'll decide.
No sketch done today. Too much nonsense to get cleared away. I'll do a catch up tomorrow.
No real plans for Saturday, but we might go out somewhere for a walk. It's forecast to be a brighter, but colder day than today.