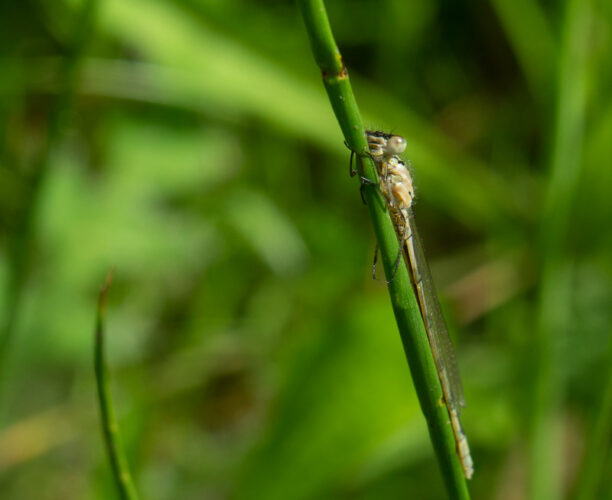 Not a day for doing much or going anywhere, although it did brighten up later.
Scamp did a bit of tidying up in the garden and moved some plants around to give them more sun and also to put them in places where they could be seen better. I deadheaded some of the aquilegia plants to, hopefully force them to produce more flowers. Scamp also cut the grass at the front and edged it I am now reminded!
We had the other half of yesterday's quiche for lunch. I think I prefer it cold, while Scamp definitely prefers it hot. After lunch I took the camera for a walk in St Mo's. Snapped a few damselflies, but because I hadn't lifted the macro lens, none of them were acceptably in focus. I walked out behind St Mo's school and disturbed a bit dragonfly. It flew around for a while before almost crashing into me. It seemed to perch in a tree, but when I looked I couldn't find it. PoD turned out to be a little fragile looking damselfly that seemed to be playing hide and seek with me hiding behind a stem. Every time I moved, it moved too. I took some photos of it and left it to its game.
When I cropped the damselfly photo in Lightroom later, it was really a small image. However, this new Lightroom has the ability to enlarge a photo to four times it original size without losing definition. That's what I did. The process is called 'Enhance' and that's what it does. It takes a fair bit of processing power to do it and the PoD took almost 30 seconds. The wait was worth it, because the quality is quite amazing.
We walked over to Condorrat tonight to pick up a Golden Bowl dinner we'd ordered. Two Chicken Chop Suey and two Fried Rice. Just as good as it always is. It's great that some things don't change in this world.
After dinner, Scamp and I watered the garden, just the front garden and just with watering cans. If the warm dry weather continues we may hose back and front gardens tomorrow night. We had a quick practise later for tomorrow's class. The routines are a bit rough, but we have most of the steps in the right place.
No plans for tomorrow. We'll see what the weather brings us.