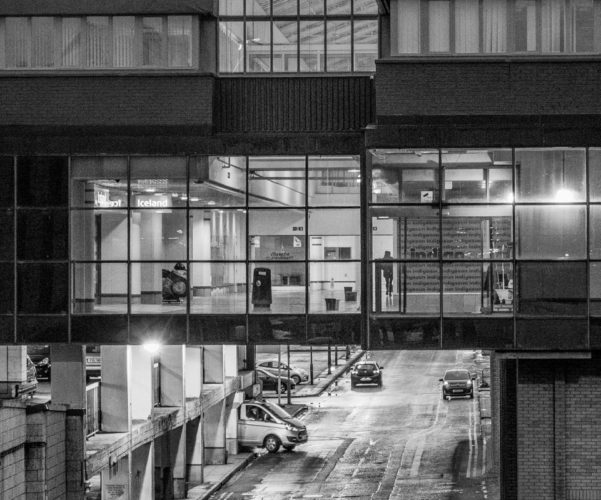 Tonight we would have a busier house as JIC and Sim were coming up for a flying visit.
Scamp was out this morning meeting one of her in-laws for coffee and I was charged with clearing up the painting room ready for JIC and Sim.  Of course, I didn't do that, there were more interesting things to do like format one of the borked drives and test copy files to it to make sure it was working properly.  It was.  I also worked out how to get my Sony F707 camera working in IR mode again, more of which later.  Eventually I did get round to clearing up the room at least so that it looked like a room again.
When Scamp came back I drove in to Glasgow to see if Staples had a decent price for the 3TB backup drive I'd picked on the net.  They didn't, but it looked like Argos in Cumbernauld of all places did have it, so it was back in the car then back to Cumbersheugh in the driving rain, only to find that the drive I'd earmarked had been sold.  Blast – well, I did actually say a different word which also started with 'B' but finished with a 'D' and had the letters 'A,S,T,A,R' and 'D' in the middle.  You've probably heard it, and maybe even used it before.  Not you Scamp, not you.  Anyway, I settled for the slightly cheaper 2TB version and payment made, new toy collected, headed back to the car through the rain.  That's when I saw today's PoD.  Cumbersheugh isn't a pretty town, but it does a really good gloomy.  I instantly liked the shot with the little silhouette of an out of focus 'wee wummin' (remember 'wee wummin' from a couple of weeks ago?) in the middle distance.  It looked good in colour, but I guessed it would look even better in mono.
Right, this Sony F707 IR thing needs a bit of explanation.  If you look here, you'll understand what it's all about, maybe.  I'd forgotten all about it and the magnet trick, but today, again in the seridipity of the Internet, I chanced upon a more up to date post about exactly the same thing.  That got me started again, sticking an Infra-red filter on the F707.  A 720nm filter is virtually black to the naked eye, but  allows a narrow band of Infra-red light through and virtually none of the visible spectrum.  The Sony just pretended it wasn't there, except for making everything have a red tint.  I think I prefer the results from the crossed pola filters.  There's a bit better range of colour to them.  I'm intending to try it out tomorrow with some hoped for sunshine.
Popped in to the airport to pick up the travellers and then back past CITRAC signs warning of ice tomorrow.  Ice in Scotland in November?  Surely not.
Hoping for sun tomorrow.  Always!