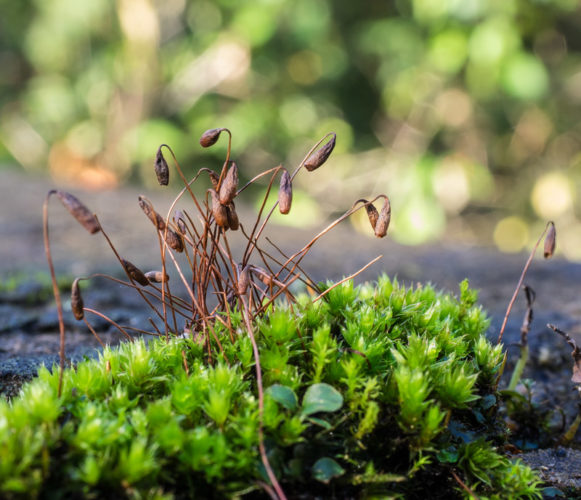 We hadn't been for a Sunday morning walk for months.
We drove over to Colzium estate for a walk among the trees. They have the most amazingly coloured Japanese Maples. I'd forgotten just how many there were. Unfortunately the place was looking a bit run down. The bandstand must have been bad because it had been put in a cage, or maybe it was just falling down. Loads of trees blown down and some looked as if they'd been there some time. The curling pond was almost completely silted up. The trees that were still vertical were magnificent, but the rest of the park was looking very sad. Such a shame. I did get today's PoD which was a blob of moss growing in a crevice of the old road bridge at Colzium.
After lunch, Scamp walked down to the new shops to get some 'messages' and when she returned she reported that it wasn't as cold as she'd expected. That gave me the impetus I needed to get out myself and have a walk over St Mo's. With the clocks going back this morning, the days seem to become a lot shorter and this is most obvious in the late afternoon. I'd a photograph in mind and it relied on bright sunlight from a low sun. I almost caught it in one shot, but I think I missed the perfect time by a few minutes. Maybe another day. I'll use either PhotoPills or The Photographer's Ephemeris to work out the exact timing for it next time. Great apps, they allow you to find the optimum time for directional lighting anywhere in the world. They even work with light striking along a path in Kilsyth!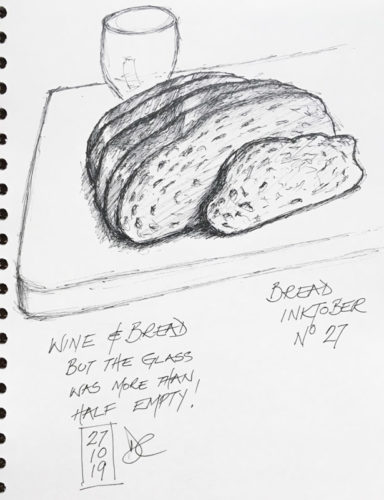 I was making dinner tonight and it was Chicken Cacciatore from one of Scamp's cookery books. It was a bit fiddly to make, but it tasted very like her's, so I must have made it right.  On the subject of food, today my Inktober list said "Bread", but I included a glass of wine in the background. Then I drank the wine, which was perhaps a mistake on so many levels.  I could say that I'd baked the bread myself, but in fact it was a Warburtons Multi Seed and Grain and does taste just like home made.
Spoke to JIC at night and got the full story about the dummy interview he's sent us. We both thought he'd managed the interview really well. Although we could see that he was taking the whole thing very seriously, he did inject a bit of humour too. A scary thing to volunteer for, especially knowing it was being filmed. Well done you!
Stayed up late to watch an 'eventful' Mexico GP. It's amazing to listen to the drivers' versions of events which vary greatly from the actual scenes you've been watching.
Tomorrow (or to be more exact, Today) is Gems day. I'll make a sharp exit.