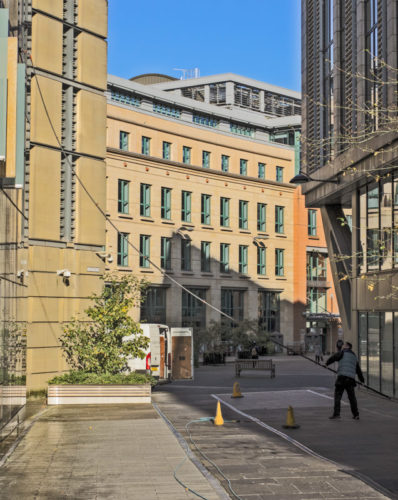 We heard about the Diwali festival on the radio yesterday and Scamp decided it was a fair excuse to visit our eastern neighbours – Embra.
Actually our next door neighbours woke us just after 8am with the sawing and banging associated with having more decking laid in their back garden. We were up and out almost in time to catch the 10.30 train to Embra. The key word there is "almost". We missed it by seconds. Not to worry, we walked back to the car and waited in relative comfort for the next one. Well, if it was you, would you rather sit on a cold aluminium seat on a station platform with a cool 1ºc breeze blowing or would you sit in your cooling, but 12ºc car with soft fabric seats? I rest my case, yer honour.
Caught the next train and luckily chose the right carriage to get a seat. I'd my phone in my pocket, but, of course, my headphones were in my other jacket. Typical. Never mind it was good watching the sunny, if Arctic, countryside whizz past. There was a zoomer in the carriage. I thought he was German or possibly Austrian. Scamp thought he was Dutch, but he was definitely from the Planet Zanussi. He kept asking people questions with the Columbo catch phrase "I have one question." He also seemed to holding a conversation with his phone, not on his phone, but with it. Really strange. Never met a German / Austrian / Dutch Zoomer before.
While he went off to find Kirkcaldy, we walked up towards the Nero for coffee. As we were walking through the architectural canyons that link the Western Approach Road with Lothian Road, we chanced upon a window cleaner washing the windows on one of the canyon sides with an enormously long brush. Strangely I'd never wondered how they washed those window. Now I know. Rattled off a half a dozen shots and knew right away that I had a potential PoD. Coffee and a pastry in Costa then a walk up through the farmers market and on to the Grassmarket. I could see Scamp's eyes light up as we got near the Petit Paris restaurant and knew resistance was useless. That was going to be our lunch venue.
Today's topic for sketching was Urban Sketch. It was now about 3ºc, but with windchill it would be nearer 1ºc, so I doubted that I'd be doing anything urban and still retaining my fingers, so we went for a walk instead, but just in case I'd get the opportunity, I got a cheap sketch book in Greyfriars Art Shop. Then on to the Meadows and, because the sun was in our eyes and it was blinding, we took a detour round the University, then doubled back when we found we were near Bristo Square. From there it was an easy jaunt back to the Grassmarket and Petit Paris.
Got a table easily downstairs in the dungeon. I had Lentil Stew with Bacon and Sausage. Scamp had Pan Fried Chicken Breast with Forestiere Sauce. Both were lovely, although I had an upset stomach later and the only thing I could blame was that lentil stew. Half a glass of red wine washed down my lunch and a glass and a half of the same washed down Scamp's. Thanks for that Nicola, ya bastard!
Just managed to catch the end of the Diwali Festival group walking and dancing their way across Embra. There were two big white horses pulling the ceremonial carriage. When they were stopped on The Mound, one of them felt the need to receive itself of excess liquid. Dear me, these horses can carry a fair amount of water! I reckon it stood there for about five minutes "emptying its tanks". Needless to say, it being Embra, after the procession had passed, the last vehicle was a street sweeper! Can't have the horses messing up their clean streets!
Decided we'd been fed and watered and seen part of the procession, so we headed for the train and caught it this time with just a few minutes to spare. No foreign Zoomers on it, just some home-grown ones.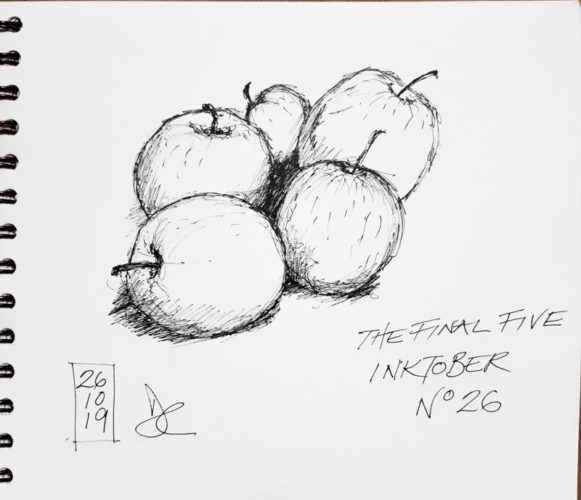 I chose to draw our last five apples as a replacement for the missing "Urban Sketch". I was quite pleased with the result.
Tomorrow we have no plans. We don't even know the predicted temperature. It's supposed to be sunny, so we may go for a walk.