I think from the outset that it wasn't going to be a day for working in the garden, or even for getting some outside photos.
Today's topic was 'Draw your lunch'. For once a simple, yet difficult task. We take lunch for granted, it's just something to fill your stomach until dinner time. It's usually simple, often quickly cobbled together and sometimes it's something to use up leftovers. It's never anything you'd ever consider drawing, and that's the genius of this topic. The other thing that's unstated is that if it's to be done properly, it has to be sketched in the morning, before lunch, and I needed that nudge to get started.
We were sharing half of yesterday's second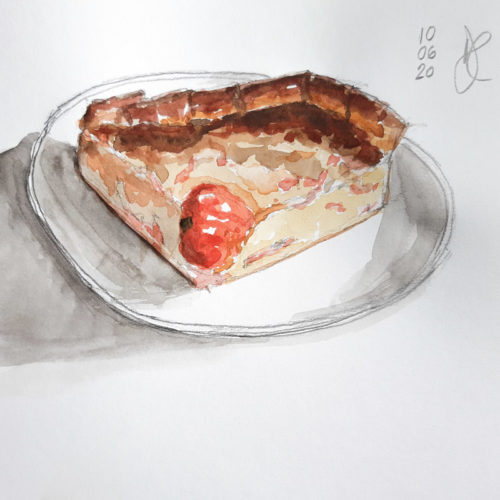 Quiche Lorraine, so I sliced it up and got started. I started on the last page of my A4 Seawhite sketchbook and even after having a telephone conversation with Scamp's aunt halfway through, got it done in time to have lunch. I'd like to say I ate the evidence, but this time Scamp beat me to it and I ended up with the other slice! It was ok yesterday, not as good as the smoked salmon and broccoli, but today, eaten cold it was delicious. Maybe the flavours intensified with the time in the fridge. After lunch I posted the painting on Instagram and Facebook.
While I was talking to Isobel and then laying down the washes on the sketch, Scamp was off in Tesco, originally to get some soft cheese for tonight's dinner. However when she came home with, I think I counted four bags worth of stuff, I knew she had had a great time buying Tesco!
With no sign of a let up in the rain, I adjourned to the Craft Room. The conversion from Painting Room to Craft Room involves removing the easel from the card table and replacing it with the sewing machine. I'd found a new and hopefully better pattern for a mask. This one was a more fitted mask. It seemed to work, but now we need to have three layer masks to make sure none of the little baddies get in. I've got another pattern ready to try to hopefully accomplish that too. Maybe tomorrow.
Dinner was macaroni with soft cheese, bacon, peas and basil. I managed to squeeze all that in and also make it taste quite good. It's been added to the 'worth trying again' pile.
We are rather hoping the rain will disappear for a while tomorrow so we can get out for a while.