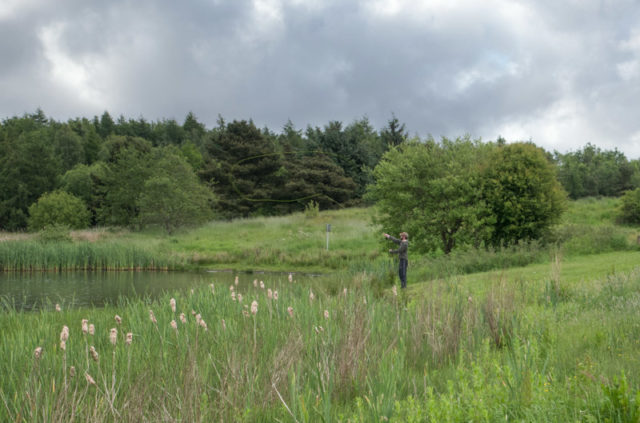 For Scamp it was. I was only the labourer.
Scamp set out in the morning with her tool belt on ready to do battle with the Pieris and the Rhododendron. She worked like a trojan scraping away the moss and compacted top soil on both, then pruned the pieris then together we hauled it around until it was sitting in a better position. My job for the day was to repot the Rosemary which had been stuck in a rather small pot for quite some time now and we'd been promising it a new pot with fresh compost for a while now. Today was the day. Again, it was moved to a sunnier spot in the garden, although there wasn't a lot of sun for it to sit in today. It was all a bit dull and grey.
After lunch we walked to the shops to get tortilla wraps, broccoli and smoked salmon for tonight's dinner which was to be quick quiche. Found the recipe in an old newspaper where they used a tortilla wrap instead of shortcrust pastry for the base and sides of the quiche. What a difference it makes. Done in half the time with no faffing around chilling the pastry or blind baking.
Walked back and it felt like there was just the hint of rain in the wind. I decided to ignore it and go for a walk in St Mo's just to make sure I had a photo for today. I saw a bloke fly fishing in the pond. I've heard of Fly Fishing in Yemen, but this must be the first time I've seen anyone fly fishing in the pond at St Mo's. I suppose it's possible to catch perch or maybe even a small pike with a fly, but usually it's blokes with umbrellas, gigantic bait boxes and a six pack of Tennents or the sneaky little bottle of Bucky who sit there all day. This bloke was standing and moving. He was doing some nifty casts too. It might take you some time to see him, he's well camouflaged! That photo got PoD. Those eagle eyed out there might have noticed in the photo that there were a lot of rain splashes in the water. I decided to cut short my walk and head for home, only having a hoodie as rain protection.
The quiche was lovely. Broccoli and smoked salmon. Something Jackie taught me up in Skye. It's a very good combination. Scamp made another quiche, a Quiche Lorraine, but the flavours weren't as strong as the first one.
Target for today was to Draw Something Huge.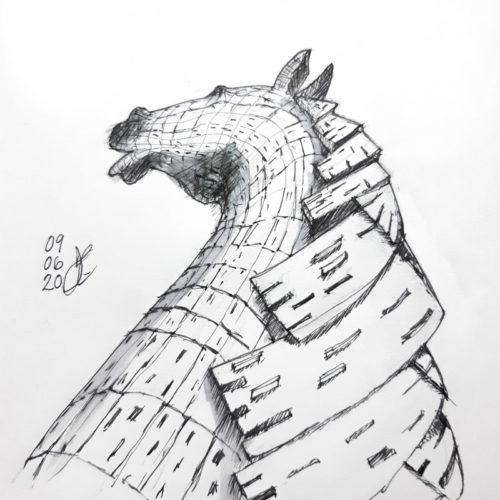 After a great deal of thought, I decided on the head-up kelpie. I can't remember if he is Duke or Baron, all I know is that the head-down kelpie likes to be called Harry the Happy Kelpie, but that's something he told me and it's supposed to be a secret, so don't go blabbing it. Pencil rough then Lamy ABC kids fountain pen (great for sketching), then a gentle water wash to give some light shadows. Always difficult to sketch such an icon, but I think I got away with it.
Tomorrow it looks wet for most of the afternoon. Maybe I'll be proven wrong. I hope I am.