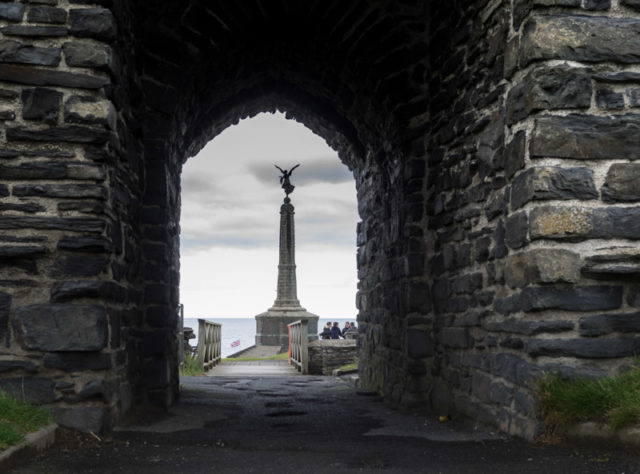 It was a very different place.
JIC, Sim and Sophie were going for a long walk today. We didn't fancy that. There had been a change of plan and we were making tomorrow's dinner as well as Friday's, so we needed some extra supplies. I suggested that we take Madeleine and Jaime in to Aberystwyth with us and go for a walk in what we hoped would be the dry, if not the actual sun, and that's what we did.
The trio left and entrusted us with the main door key. Soon after that we too left. Aberystwyth was dry when we arrived after meeting a milk tanker on a narrow road with very few passing places. Luckily we met at one of those places or it would have been Juke Soup! These narrow country lanes are not meant for wide cars like the Juke and even less for hulking great milk lorries, but we both came through unscathed. We parked at the exact same place as yesterday and walked along towards the castle.
After investigating the ruins, we wandered past the University and in to town proper. Coffee in Nero, just like yesterday and then walked back along the prom past the statue of the Mary Poppins lady and back to the car. Next stop Morrisons to get the extra food needed for tomorrow's dinner, then home.
After unloading the car I was deciding whether or not to go for a walk when I got in conversation with the man who owned the house and most of the land on that side of the road and he told me how the house was renovated. I'd thought the beams that held up the ceilings (and provided Jaime and me with so many lumps on our head when we forgot to Duck not Grouse) were Greenheart, but he said they were more likely to be Oak and had come from the masts of ships which had been decommissioned in the 1700s. He'd heard about Cumbersheugh, but had never been there. I told him that's what I'd have recommended. Interesting talking to someone who has a totally different lifestyle to mine.
Not long after that, the rain started and we went our different ways. Then the trio returned with Vixen 'covered in ticks'. Poor dog, I know how she feels.
Then it was time for the Trinny Trio to start making dinner which was Stew Chicken and Macaroni Pie. Immediately I smelled it, I remembered eating it in Trinidad. It tasted just as good as it smelled.
Apparently tomorrow morning is to be wet, but the afternoon will be better. We may be going for a walk somewhere not strenuous and without ticks. Good luck with that.