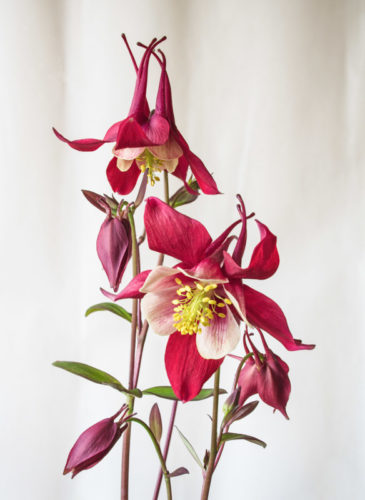 The door opened this morning and has been locked and unlocked a few times now. I call that a success.
Cut my hair after I got up. Number 4 all over. Thankfully Scamp corrected the bits I'd missed, and there were a few. After that I sat for a while in the sunny living room completing today's Sudoku puzzle and also doing a quick painting of the fruit bowl with the oranges looking shiny and colourful in the sun.
With nothing else to do today and nowhere in particular to go. We finally settled on Stirling, or to be more exact, Waitrose in Stirling for the 'messages'. I don't know if you can actually go to Waitrose for 'messages'. I think you go there to shop, or for shopping. We bucked the trend and went for messages.
Came home and tried to stop at Calders for some more plants. Calders was full, completely full. Not one parking space. Drove home and had lunch. An hour or two later we went back and got the plants and also a hook to hold our refilled hanging basket. Came home via Asda where I was hoping to get a couple of miniatures of whisky. The had none. It looked ominously as if that particular shelf had been cleared on purpose. This needed investigation.
Back home the sun was still shining and while it wasn't as warm as yesterday, it was certainly shorts and tee shirt weather. So, suitably dressed I went for a walk in St Mo's. That's when the camera gave me a "Card Error!" Ejected it and re-inserted. Same result. After trying every thing I could think of, I knew the game was up and went for a non-photography walk over to Condorrat to see if Spar had the miniatures. Nope, they didn't have them either. Eventually I phoned the Whisky Shop in Glasgow and was told, Yes, they had hundreds of them. The reason for the dearth elsewhere was because of new legislation for licensed premises that means they have to pay an extra fee and some are not willing to do so. Solved. Going in to Glasgow tomorrow to purchase a couple.
Still no photo, but then thought I'd take a few shots of our Strawberry & Cream Aquilegia. Set up the tripod and a few bits and pieces. Used a new card this time and it all went well.  The old card went in the bin.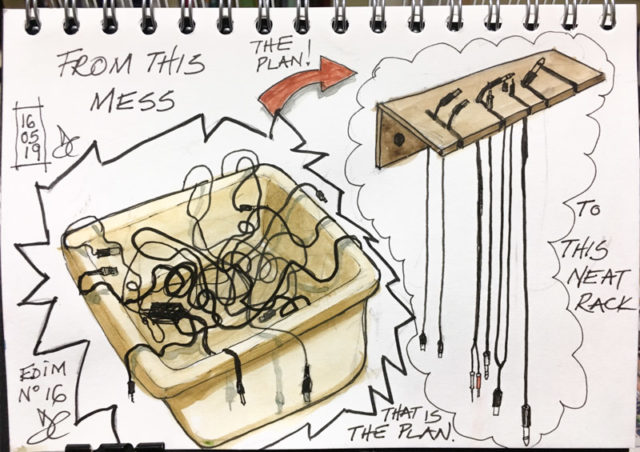 Sketch theme today was A Messy Place. There are no messy places in this house. ;-). Ok. I lied. It ended up like a development sheet from a Craft & Design project, but that covered the brief. It's done and on time.
Tomorrow, Glasgow may be the preferred destination.