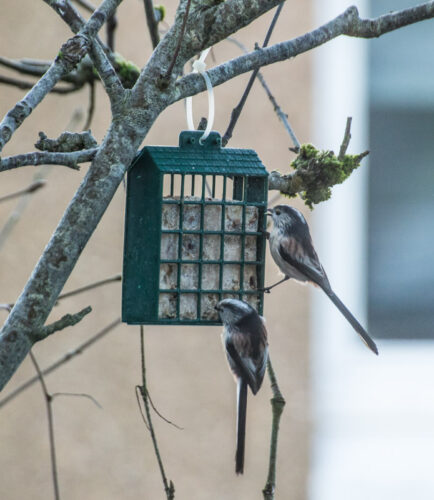 Temp was -3.7ºc this morning. We were in no rush to go out.
Instead, Scamp started baking a couple of Dundee cakes. They should have had whisky in them, but she doesn't like the taste if it (why!!?) so she substituted Calvados instead. I gave her a bit of help with the logistics. I held the paper cases open while she spooned the mixture in. I'm useful for some things.
With the cakes in the oven, I was staring out the window and I realised that there was a Long Tailed Tit pecking at the fat block that hangs from the tree. As we watched, it was joined by another four of them. They are very rarely seen near houses, preferring open country. I thought that if I grabbed my camera and went through the manipulations that are necessary to connect it to the adapter and to the long lens, the birds would be long gone. But no. They were still there. I managed two shots, then a blackbird seemed to startle them and they flew off. I guessed that now they'd found the fat blocks, they'd be back and sure enough about five minutes later they were crowding round the food. I managed a few more shots before they flew off again looking for something extra to finish their lunch.
Our own lunch was now calling us and I used the heat from the oven to warm through my slice of mince cake (I've got the last bit in the fridge for tomorrow). It was delicious and it disappeared in no time.
I wanted some more ammunition just incase the bird pictures didn't work out, so I dressed for the just above zero weather and walked round St Mo's. Scamp isn't too keen to go walking in this icy weather, so she stayed home to admire her cakes and do some cleaning. I did get a few shots in St Mo's, but nothing to compare with the birds from this morning. I walked down past the back of the school to the shops, but saw nothing of note. I was hoping for some deer, but they were off somewhere else today.
Back home and after dinner, it was the Long Tailed Tits that made Pod. I also got my first two or three calendars printed. Then the printer started banding a bit, so I think it needs the ink reservoirs refilled. I may do that tomorrow.
Tomorrow being Hogmanay, it's the day for cleaning before we usher in a new year. I've volunteered to wash down the kitchen cabinets which are really badly in need of cleaning. Scamp will no doubt be similarly engaged elsewhere in the house.