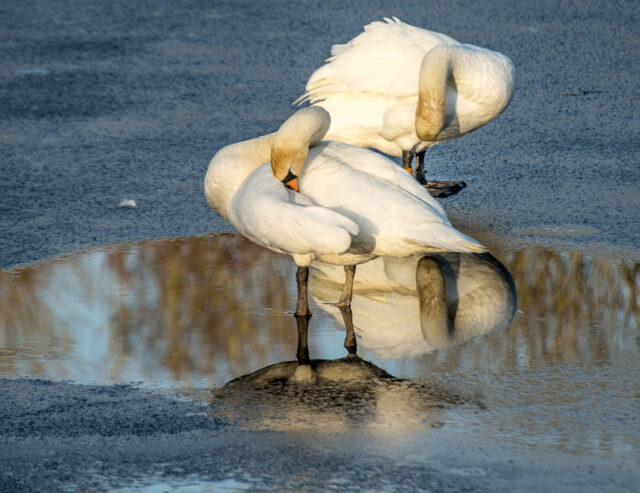 It had snowed during the night, not a lot, but a covering. Very crisp, very even, just not deep.
We stayed in during the morning waiting for the snow to melt away, it didn't, in fact it's still there just the same as it was this morning. We were having a piece on fried egg for lunch. If you don't understand this description, imagine a slice of bread, buttered. Lay a fried egg on it and then, carefully, place another slice of buttered bread on top. There you have it, a piece on fried egg! Well, to get back to the story, Scamp took an egg from the egg box and attempted to crack it with a knife. Except, instead of making a nice wee crack in the shell, she sliced the egg in two! Neither of us had ever seen that trick done before. What a mess to clean up.
After lunch we went a walk to the shops. The paths looked treacherous, but weren't too bad. Scamp had been smart enough to book a slot at M&S. I haven't managed to master that bit of online trickery yet, so I went for a waltz round Home Bargains instead. Got a couple of things and met her outside. Then we walked home.
I only came home to keep her company and to pick up my lumberjack's hat and a long lens to take some interesting photos of the birds on the ice at St Mo's. The swans were practising their Flamingo routine, tucking their head under their wing. That became PoD. I was surprised there was so much ice still because the temperature was rising.
Walked round to the wee pond and the lighting was good, so I got some wide angle shots of it too.
On the way home I saw a powered paraglider off to the east. I was hoping the pilot would fly over the pond, but whoever it was flew away south after circling for a while over the town centre I would presume. It would have been a great view from that thing today as long as you were well wrapped up. The temperature may have been rising, but the sun was dipping down by the time I left St Mo's and I think the temperature was hovering around zero by that time.
Back home Scamp gave me a run down on how to make a mince pie. Very simple, but simple things are never the easiest to make. I made a fair fist of it, although I think I was a bit too easy on the salt. Must be more generous with it next time, all being well. Watched Zog and the Flying Doctors tonight. Great film, absolutely fascinating to have a film made about me!
No plans for tomorrow. It may be Cod with Prawns and Fennel for dinner.