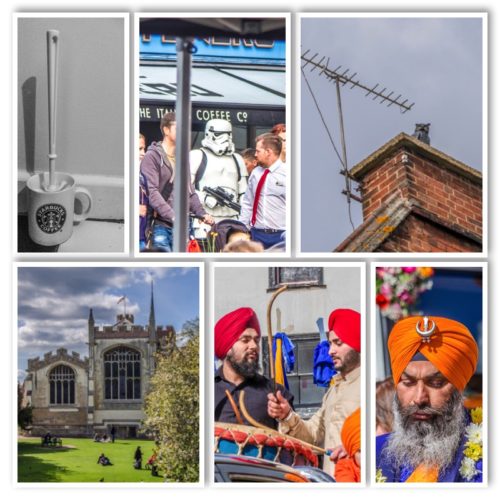 Today we started out being driven to Hitchen for lunch and a walk around the shops.  It seemed like a plan as the sun was out and it was fairly warm.
It seems a pleasant wee town with a busy market in the centre.  Had lunch in a Greek restaurant.  I had lamb casserole as my main after a starter of Borek which is filo pastry filled with Greek feta cheese & spinach.  Afterwards we went for a walk around the main part of the town where a Sikh group were giving out free food and cans of juice to anyone who wanted it, free of charge as part of their Vaisakhi festival.  We had just had lunch, but there were big queues at the stall, happy to make the most of the food on offer.  It appears that there is such a thing as a free lunch!
It being Easter, there were a few others stalls dotted around, a town crier shouting the odds and even a couple of Imperial Stormtroopers searching for those droids, I presume.  We were looking for Just Desserts, a dessert restaurant, but it when we found it, it was closed, not just for Easter, but for good.   It had had its just desserts.  Instead of a dessert, we settled for a posh, artisan coffee shop.  Coffee was lovely, if  a bit sharp and there were loads of cakes on display.  JIC and I had Yoghurt and Cranberry slice.  Best laugh of the day was when I went to the toilet and found the toilet brush was stuck in a Starbucks mug!  Someone with a sense of humour and an opinion of Starbucks much like my own.
Back in the town the Vaisakhi procession was in full swing with drummers and marchers who were preceded by two men spraying water on the road in front of the markers, presumably to ritually clean it for them.  It was all quite a jolly and colourful affair in the sunshine.  However, our parking time was nearly up, so we made our way past and old church back to the car with a few minutes to spare.
Went out later to see the new Mill House and it's quite a revelation although there is still a fair bit of scaffolding enclosing it.  Sketched it, but I'm not impressed with the sketch.  May redo it later.
Dinner should have been in the Benington Bell which is a traditional British pub serving traditional Trinidad food!  I had Aloo Pies to start with, but everybody else had Salt Fish and Tomato.  Main for me was Lamb Curry for me and for everyone else was Chicken Curry.  I just like to be different.  Unfortuntely, Sim wasn't feeling too good, so we just ate and left. (Since I'm writing this on Sunday, I can tell you that she was fine after a night's sleep.) The food was really, and I mean really excellent.  Thank you JIC and Sim for that.
When we got home, Sim went for a snooze while we watched Black Mirror on Netflix.  Interesting programme.  Must search for it when we get back home.
Tomorrow (or to be truthful, today 😉 we're hoping to visit a garden centre.)