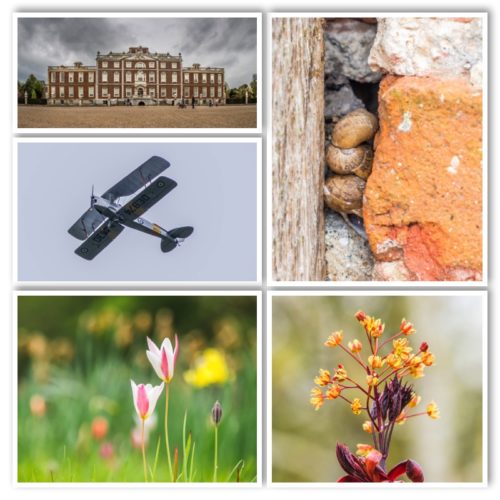 Actually Wimpole is an estate, not a manor, but 'estate' didn't make such a good title I thought.
JIC drove us all there in the morning, and this being Good Friday, there were already hundreds, if not thousands of people there.  Most seemed to have brought their 2.5 children with then.  I did hope there were an even number of families, otherwise it might become messy with that poor 0.5 of a child wandering around.  Got parked and Sim set off in search of the ticket office and managed, somehow, to get to the front of the queue.  Tickets purchased we went in search of the formal gardens.  Most of the other families with their 2.5 children in tow were taking part in the 'Easter' Egg Hunt which had been cunningly renamed to Cadbury's Egg Hunt so as not to offend any non-Christians while they searched for eggs.  I thought it was a petty and childish piece of semantics and, as my mum used to say, "That's how wars start."
It being early spring, there weren't a great variety of different flowers in bloom, but the colours of the daffodils and tulips made up for that.  You can see a couple of shots of them above.  As well as flowering plants, there were also veg and fruit plots and it was good to see that many of the plants had been labelled.  I learned on our visit to Kew a few years ago to photograph the label as well as the plant.
The estate farm was quite interesting, but there were too many weans squealing around the place, so I was quite glad when we left.  Even more squealing and grunting was coming from the enormous pigs in the piggery.  It's not until you see these providers of our bacon that you realise just how big they are. Just as we were leaving the farm, which thankfully is a real farm and not just a petting zoo, an old plane flew over, a biplane.  I thought it was a Tiger Moth, and when I got home and checked the reg, I found I was right for once.  So strange looking at it through the EVF (Electronic View Finder) because it looked as if the propellor was stationary.  Must be due to the refresh rate of the EVF.
I took some photos of the Wimpole Hall itself. It was very grand and enormous.  Such a terrible waste of accommodation.  How the other half live.  Even more astounding was the view down the tree lined avenue which appears to be about a mile and a half long.  Another demonstration of one family's wealth.
Having said all that, it was a great day out.  A bit cold, especially when you weren't sheltered from the wind.
Back home, Sim made Trinni Stewed Chicken while Scamp watched and made mental notes.  Chicken was lovely.  Much better than anything we saw the contestants making on Masterchef later.  However I did have a nice bottle of IPA to take the edge off the bald bloke's "Oh Mate!" exclamations.
Vixen still doesn't seem to take too kindly to male bearded strangers, especially if they are standing.  Maybe tomorrow.
Tomorrow we may be going to Hitchin for a walk round the shops in a quiet wee town.