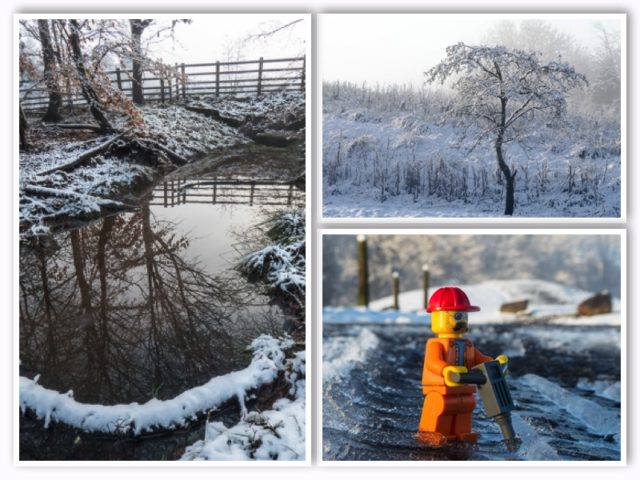 Today was Boxing Day, but there were no more boxes to open, so, as it had snowed during the night and it looked 'Deepan, Krispan, Evin', I got dressed and took the big dog for a walk.
We walked through the snow and found that the pond was covered in mist as the sun hadn't risen to warm it up. I just missed catching Mr Grey who was fishing next to the path, behind a bush. He flew off squawking at a couple of swans that were in his way. I walked into the trees and saw the sun rising above the tops of the pines. It's not often I'm up before the sun, these days!
Walked down through the pine trees and didn't see a living soul. Got a few shots of the little man-made pond near the road and then followed a fresh fox's trail through the woodland until it crossed the burn. It wasn't my great tracking skills that let me to believe it was a fox, it was the smell that was quite strong on the snow.
I walked through the deciduous woods and by carefully choosing a point of view, got a shot of the second burn with some clean reflections and avoided both the street lights and the motorway signs. The mist helped, but it did need some 'spotting' in Lightroom later. It was on the way back with my 'big dog' that I was joined by another couple of real big dogs. I just caught a glimpse of something behind a bush and assumed it was a deer, then it formed itself into a big, and I mean Big Dogs. Two fairly heavy built Alsatian types. I'm not good on dog ID, but the other thing I was pleased to see was that they both had expensive looking harnesses on and looked well fed and looked after. I tried to ignore them and walked on when I heard one behind me. Never let a dog get behind you, someone once told me. As I turned round the second one bolted away from me towards some silent signal, presumably from the owner. My own shadow gave a high pitched yelp as if to say "Wait for me!" and ran to follow the first dog. I breathed a sigh of relief. Luckily I was wearing my brown corduroy trousers, so there would be no outward sign of my panic as I walked on.
Got home without meeting any more Big Dogs although I did manage to get a low down PoD shot of a new Weeman that Scamp bought me as a Chrissy Prezzy. I'd have looked a proper Charlie if anyone had seen me crouching on my knees, photographing a Lego Minifig™.
Lunch was a light wrap with cooked meat and salad veg, plus some Jalapeños. Afterwards we discussed tonight's dinner and it resolved itself into Minestrone soup. Not difficult to make, but lots of chopping up of veg as preparation. We didn't have any cabbage, so as Scamp wanted to go and stretch her legs, we walked down to the M&S shop at the petrol station. We didn't really need anything apart from cabbage which they didn't have, but I got some more cold ham and Scamp bought some Satsumas. It was more for the walk than for anything else. Stuck in the house all day yesterday makes you yearn for the outdoors.
When we got back, Madeleine started a video conversation using WhatsApp. We'd never used it before, and it was really good. Much better than Skype. Skype used to be good, but since it's been taken over by The Dark Side, it wants to run things its way. Interrupting a call to install an update. That's just typical Microsoft. Anyway, the Whats App call worked well and Scamp got to see Ori the wonder dog as well as everyone else in the Trini house.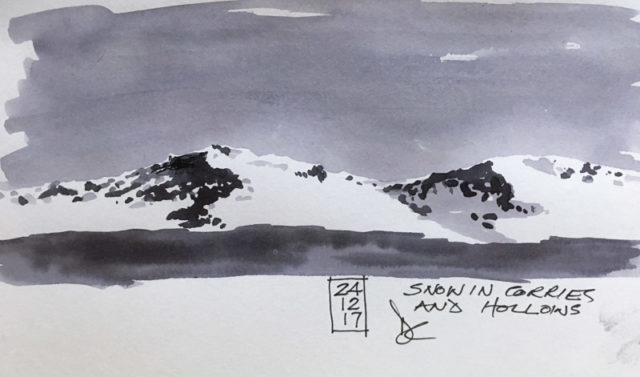 I got a sketch done and pre-dated it to the 24th. A lie, but a little white lie, well, a black and white lie actually. Not drawn, but painted with black Indian ink. I quite like it, but I'm not letting you see the usual big image, so don't bother to click on it. It looks better small, I think, and it's my blog!  The title from the lyrics of 'The Curious Crystals of Unusual Purity' by Bridget St John.
Today we made the move to go out. Tomorrow we may go even further! Provided the weather is kind to us.