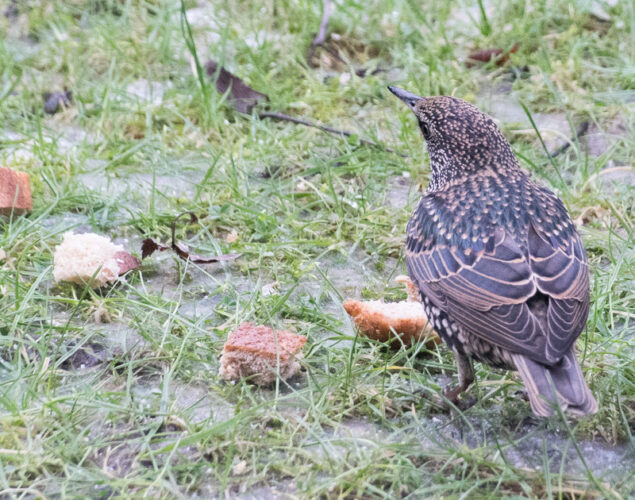 Well, let's face it, the wasn't much else to watch.
At first it looked like the ice had all but gone this morning, then we realised that wasn't the black asphalt of the path we were seeing, it was the path with a clear layer of ice. No point in rushing out then, better to go back to bed and finish a chapter of our books. However, not everyone is as luck as us retired folk. Scott, the taxi driver, needed to get to and from his car safely and often during the day, so he started clearing the ice and shovelling salt and grit onto the path. It seemed to do the trick where it fell, but because there wasn't a very active footfall on the paths, the grit and salt was not being spread by pedestrians, and wasn't doing its job as efficiently as it should.
The reason for the layer of ice was explained in the midday weather forecast. It was all down to freezing rain, caused when rain hits an already frozen ground. A ground so cold that the rain instantly freezes. I remember this being talked about ten years or so ago in the winter of 2010/11. It looks as if it's back again.
We had spent most of the morning and early afternoon taking down the decorations and packing them away. It never ceases to amaze me the number of things Scamp can pack into those big plastic storage boxes. Most of them are now in the loft, with only a few left to go. The room looks quite bare now and quite dull, although I must say it was a dull day.
On top of the weather problems, in the afternoon Nic the Chick explained in great detail why she had taken the decision to put all of mainland Scotland into full lockdown again. It seems like exactly the same rules as in March '20 with no unnecessary travel no leaving the house unless for exercise or to buy food and all non-essential shops to remain closed. No meeting more than one person from another household outside. Schools to remain closed until the end of January at the earliest. It's not a great deal different from what we, at least, have been living with for the past month or so. Oh yes, and we've to expect more snow by the end of the week.
So, to the birds. I wasn't going to risk a walk today. It was really dull anyway and Scamp didn't want to go far. We'd been watching and feeding the birds in the garden over the cold spell and today it was their turn to pay us back by posing for some photos. We've had a thrush who visits every day and also our resident robin who seems to think he/she owns the garden and patrols it vigorously. Blue tits, great tits and, of course, the ever present starlings. Today's PoD is of a thoughtful looking Starling. Taken through the kitchen window.
The diet has started. We are doing our best to eat and drink healthily. No alcohol until Friday and smaller portions at mealtimes. We'll see how long it lasts.
Tomorrow we may go out for that 'exercise walk' if the paths are safe to walk.