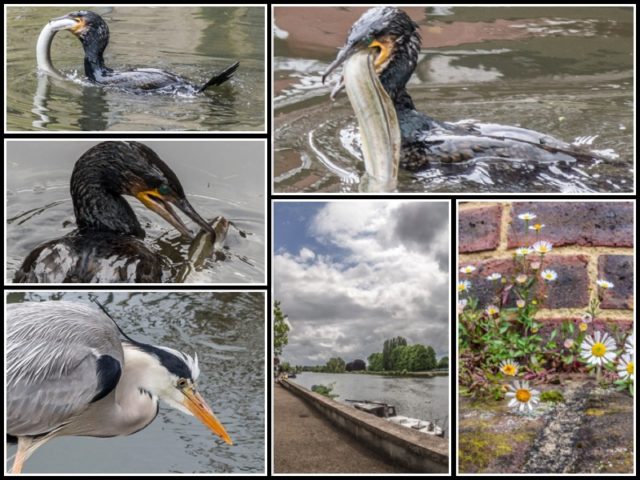 Took the bus into Kingston from Chessington railway station, it was almost taking time to rain. Absolutely pelting down. Still marvelling at a joined up travel system. Obviously designed with joined up thinking. Spoke to an old guy, like me in Marks. He was buying a hat to protect his new hearing aids from the torrential rain. Hope they did the trick. Coffee in Nero, then a walk round the shops. By the time we came out the rain had stopped so we wandered down to the river. There was a swan sitting on eggs and a heron fishing. We also saw a cormorant fishing and it looked like it had successfully captured a large eel, but was having a problem swallowing the catch. It struggled with the fish for a full ten minutes before it swam off gulping the fish tail down its throat. We watched this battle with an old man who showed us his photos of the swan's eggs. He seemed quite interested in the birds on the river. For some reason I felt quite sorry for him. Is this me in the future?
Scamp and I walked along the riverside walk, inspecting the unusual boats that were moored along the towpath. Most had 'notice to quit' letters attached to them. It seemed a shame, but I suppose it's necessary to free up moorings.
Lunch for me was a chicken wrap from a Dominican Republic stall in the market and for Scamp it was a chicken wrap. Birds of a feather!
Went to Canute and Deliah's for dinner and for the boys to watch football while we oldies sat talking. It was also the first time for Scamp and I to see Marcie. Scamp even got a chance to hold her.
Heading in to Lundinium tomorrow.