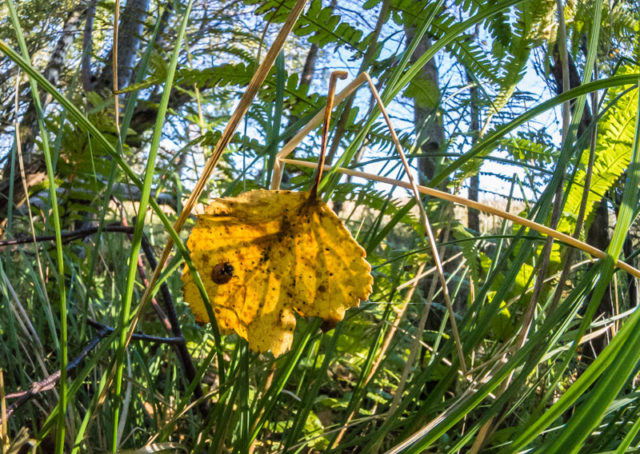 Another beautiful day. Blue skies all around.
Not the warmest of days, but if you were in the sun it was warm, especially because there was little or no wind to draw the heat away.
As it was Gems today, I had to make the decision whether to go to the gym or take the Dewdrop out for a run. That blue sky and the lack of wind made it a no-brainer. Hurled 1 the Dewdrop out  and realised right away that I was over dressed for the conditions. It looked cold, but was remarkably mild. However, I was out now and I wasn't going back in to remove one of my layers. Better too warm than too cold.
It was a short run, just about five miles or so, but cycling was only part of the reason I was out. I wanted to get some decent shots with the Samyang. Even after a month, I'm still having to get used to it. Today I was looking for macro shots in the ultra-wide. Apparently the Samyang is quite adept at getting in ultra close. It worked too, although as usual you have to be very careful setting the all important focusing distance.
Cycling was a bit aquatic today with loads of puddles and flooded parts of the track I like to ride on. The SPD shoes are great for getting the power down, but practically they are a disaster. Not only are there holes in the sole, the uppers are as waterproof as blotting paper. Apparently the holes in the sole are to allow the water to run out when you're cycling in the rain, but they also let the standing water in. I don't think there is a happy medium here.
After dinner we drove in to Glasgow and tonight's Salsa move was interesting. Not nearly as bad as the one we dodged last week which was just a lucky bag of bits of moves, clumsily bolted together. This one also had bits of moves we already knew, but the joining together was more skilfully done. Jamie learned it from a video by a Polish couple, so it's called 'Poland'. That's the way it is some times!
PoD was a macro shot of a ladybird on a leaf and i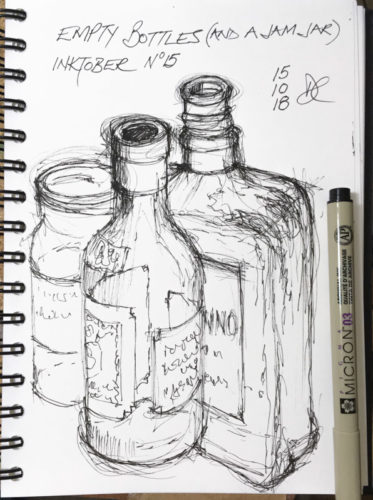 t works for me. Inktober sketch for today was two bottles and a jam jar sitting on the worktop this morning.
Tomorrow Scamp goes to the dentist again in the morning and I'll find something to sketch to fill my time.
---
To Hurl – In the Scottish language does not mean to throw or even to be sick.  To Hurl is to wheel something.  "The mother put the baby in the pram and hurled it down the street."  It is also possible to give someone a Hurl.  "The old man gave the boy a hurl in the barrow."  Note that neither prams nor barrows, nor even boys were thrown anywhere. ↩